If you're looking for a Rheem 40 gallon gas water heater, you may be surprised by the number of available models in this particular size. And frankly, it can get a little confusing.
Sorting it all out to help you choose the perfect hot water heater for you and your family is what this short Rheem 40 gallon gas water heater review is about.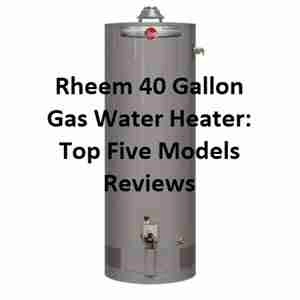 Check Out All Of The Rheem Water Heaters – Click Here
Rheem 40 Gallon Gas Water Heater Reviews: Notes
I have written about numerous water heaters from many manufacturers. The Rheem company is constantly creating better functioning water heaters. Which keeps Rheem as one of the water heater companies I would personally buy from.
A Company With Notable Track Record and Experience In The Field
Considering this manufacturer's deep long-standing history of manufacturing quality water heaters, it's not surprising to see their name pop up during a search for any type of water heater. Including, from traditional tank heaters to tankless – and even hybrid models.
For now, we'll stick to the style Rheem has been producing for decades – tank style water heaters – and specifically in the 40 gallon size. Here we'll present the best of the bunch.   
With more than a century of cumulative expertise manufacturing water heaters, you can rest assured knowing that any specific model with this brand's name on it is likely to live up to your expectations, if not surpass them.
Check and Then Double-Check Your Available Space
The challenge for anyone like you seeking a specific water tank capacity, such as the Rheem 40 gallon gas water heater, is that the differences (though minor in nature and perhaps because of it) are not always obvious.
So, the first thing to do from your point of view should be to measure your available space. Check the size and configuration of your existing hot water heater and pipes that connect to it. Know in advance what you've got to work with.

You want to make sure – first and foremost – that your new Rheem 40 gallon gas water heater is going to fit in your allotted space.
There are few things that are more frustrating than having taken delivery of a large appliance like a water heater only to discover that it doesn't easily fit into the space you have designated.
Another factor to consider is your existing plumbing infrastructure. Ideally, if you would want a new replacement water heater unit to connect to your existing pipes with as little modification as possible.
Preparation Makes It Easier
But it should be noted that rarely is a new replacement water heater a perfect fit for a worn-out model that is now outdated, though it is possible.
Chances are the water heater you're replacing has been in continuous use for several years. And while the design and overall functionality of the tank-based water heater hasn't changed – these new models are much more efficient at heating water for any purpose throughout your home.
Some modifications may be necessary. But the idea is to keep those changes to a minimum, thus making your new installation as clean and straightforward as possible.
If you're doing the installation yourself, you're likely going to need some additional plumbing supplies. A professional plumber is going to have everything needed like solder, extra pipes, fittings, etc. on the truck. It's not as simple as a plug and play appliance. But it's not too difficult either.
And the good news is that whatever extra pieces of hardware you need can be found at your nearest Lowes, Home Depot or small town hardware store.
What All Five Selections Have In Common
All of these models feature low emissions (for a healthier environment). A self diagnostic system to make monitoring and maintenance easy as pie. Plus, a safety sensor system that automatically shuts off the fuel and air, causing the water heater to shut down too. The system disables the water heater in the presence of any accumulated flammable vapor.
This is an excellent feature to have for added peace of mind. After all, we've gotten used to having ready access to hot water whenever we need it – without having to worry about any safety issues.
All of our top five water heaters from Rheem come standard with a temperature and pressure release valve. Each also deploys a drain valve made of solid brass. Incidentally, this has proven to be much more reliable over the long haul than any valve constructed of plastic or composite materials.
Each one of the water heaters from Rheem that we recommend is relatively easy to install. Particularly for homeowners who are handy and have had some experience with water heaters before. But even first-timers have been able to follow instructions and complete the installation on their own. Saving as much as $1700 in installation fees in the process.
Once everything is connected properly, test it. Your new water heater should provide years of virtually maintenance-free hot water at every faucet since there is no filter to clean.
Rheem 40 Gallon Gas Water Heater 12 Year Warranty
Often the standard warranty offered by Rheem covers the first eight years of ownership for the tank itself. As well as for individual parts like the drain valve and anode rod. At the time of purchase, you have the option to extend that warranty to a period of 12 years, with the Rheem Protection-Plus warranty.
Combined, you should have full coverage for those twelve years and worry-free protection. So you can enjoy all the hot water your family wants in a hassle-free way.
Rheem 40 Gallon Gas Water Heater Reviews
In this brief article, we will look at five different models (all from Rheem) that are likely a good option for you. By the way, these five products are nearly identical. There isn't much that separates one model from the next. But one little difference – like using propane instead of natural gas – could make all the difference for you.
Number One: Rheem Professional Classic Plus Atmospheric Gas Water Heater
Here's a Rheem 40 gallon natural gas water heater ( PRO+G40S40NRH62) that is designed to generate abundant hot water at a lower than average operating cost. That is, as compared to competing brands of tank-style water heaters.
It features a temperature and pressure release valve, and solid brass drain valve (for greater water flow and longevity). Plus, water hook ups on the side of the tank to accommodate a tighter fitting area.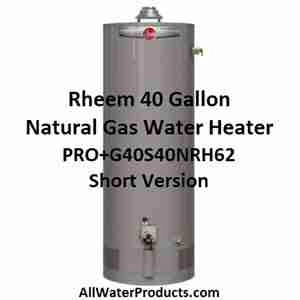 Affordable, Money Saving 40,000BTU Check The Price – Click Here
This shorter-in-height (see dimensions below) version provides a hot water recovery rate of 40.4 gallons per hour – at a 90°F temperature rise.
Since it is fueled by natural gas, it makes a logical choice for any homeowner who is replacing an existing water heater that also used gas as its fuel source.
This model is also atmospheric vented and is easy to light. With no matches or external starter of any kind required.

Also included is the exclusive Rheem anode rod that provides extended tank protection, helping you to enjoy multiple years of trouble-free service from your Rheem 40 gallon gas water heater.

Overall, this model is 23 inches in diameter. And it stands at a total of 50.5 inches in height. As for the weight of this unit, it tips the scale at an even 140 pounds.
What you're getting with this natural gas powered 40 gallon capacity unit is 40,000 BTUs of water heating power. Oh and it is designed to be installed indoors – that's very important. This model is both AHRI and Energy Star certified.
Lots of people seem to be looking for this size of gas water heater. That's because a 40 gallon water heater (like those listed here and made by Rheem) are a popular option for many small to midsize families of two to four people.
However, these mid-size water heating units have also been known to serve families of up to six quite comfortably.
Easy to install
Easy to light
Very Easy to operate
Provides problem-free operations. (You'll forget about the water heater – that's as it should be.)
Good quality from a reputable brand
Safe to use
Supplies consistent hot water – without any cold water interruptions
What Some Buyers Didn't Like
Some parts failed before their time (as is often the case with any parts). Particularly electrical components, like the thermostat regulator. But if you're within your warranty period, these will quickly be replaced by Rheem. At no expense to you by contacting their customer service department.
This is another short version water heater with atmospheric venting offered by Rheem. It's more compact from a bottom to top perspective, making it a better fit in some situations. It really depends on the space you have to work with.
What's different about this model of 40 gallon water heater by Rheem is that this one is powered by propane.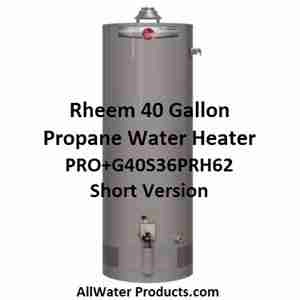 Very Popular – Click Here
You get all the helpful features Rheem has designed into their water heaters. Like the pressure and temperature gauge, brass drain value, safety shut off, plus maintenance-free ownership.

Actual dimensions for this model are as follows: Overall, it measures 23 inches in diameter and 50.5 inches in height. The total weight is identical to the gas model at 40 pounds.
The fuel used here is liquid propane – so it's going to be perfectly suited to some and not to others. Since the tank holds up to 40 gallons of hot water, there should be plenty to go around without waiting.
As with most water heaters designed to use propane as the fuel source, BTUs are slightly lower (than comparable natural gas models) at 36,000. But this is also designed to be an indoor installation.
Overall dimensions of this model – Rheem Pro+G4040NRH62 – are 55.5 inches in height by 22 inches in diameter. It's slightly narrower yet 5 inches taller than the "short" water tanks.
As for the weight, it seems pretty consistent among the family of Rheem 40 gallon gas water heaters. (140 pounds)
Just like every other Rheem 40 gallon gas water heater (short and tall) featured here, this one comes equipped the this brand's exclusive anode rod – designed to provide long-lasting protection of the tank.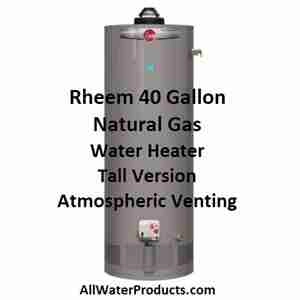 Fits in narrow locations. Check The Price – Click Here Now
This unit also comes with the safety control system in place. It disables the water heater should flammable vapors build up. Thereby providing an effective element of safety for you and your family.
This tank-type water heater is powered by natural gas and boasts low emissions (so it's eco-friendly). It also met the qualifications for AHRI certification.
The Built-in temperature and pressure release valve, plus the solid brass drain valve for greater water flow and longer-lasting, hassle-free service from your hot water tank.
Again, you get everything you might expect in a quality water tank system from Rheem.
Including the quality anode rod, temperature and pressure relief value, solid brass drain value. Plus, the built in safety shut off feature that kicks in automatically at the first sign indicating something isn't quite right with your water heater.
Size-wise, the short version measures 23 inches in diameter and 60 inches in height. But there are a couple of key features that separate this Rheem tank water heater (40 gallon capacity) from those previously covered.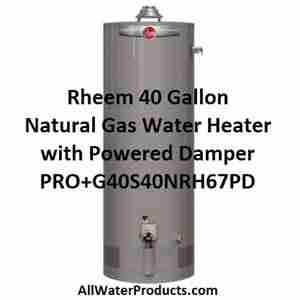 Wi-Fi energy saver. Great for high altitudes. Check it out – Click Here
This model comes equipped with a powered damper that sits on the top of the unit. Which accounts for the addition height requirement for this model. When the gas gets turned on – the flue damper opens up in response. When combustion comes to an end, the damper then closes automatically. Thereby containing the heat inside and heating the water more efficiently.
Recovery rate for this water heater are stated as 40.4 gallons – with a 90 degree Fahrenheit rise in temperature. This model is also certified for use in areas of higher altitudes – up to 10,000 feet apparently.
Another great feature on these powered damper units is that they are Wi-Fi enabled. This means that with the free mobile phone app, you can customize your experience.
Use the Wi-Fi app for adjusting the water temperature, and to monitor the system. Plus, it can be set on vacation mode when you're going away. Thereby saving you money in unnecessary water heating costs.
Please note: the Wi-Fi kit is sold separately. However, it's well worth getting should you choose this Rheem 40 gallon gas water heater.
As with our other recommended water tanks by Rheem, the Pro+G40S36PRH67PD has all the tank elements you'd expect for a well-designed and efficient hot water heater.
This includes the proprietary anode rod designed to help the tank last longer, temperature and pressure valve, and sold brass drain value. Also, the safety shut-off system that powers the unit down quickly should any flammable vapors accumulate.
This is very important since this model (plus the other Rheem water heaters covered in this review) is designed to be installed indoors.
Powered by propane, this unit cranks out 36,000 BTU's of heat. And with a 40 gallon storage capacity, you can rest assured that it will provide plenty of hot water for your family's every need – throughout the house.
With the built-in damper for venting, you get a more energy efficient burn of the fuel. Thereby saving you money in the long run. The reason is that the flue only opens while the fuel is engaged. Once it shuts off, the vent closes, effectively containing the heat and using less gas to more effectively heat the water.
The Verdict
The truth is that you can choose any Rheem 40 gallon gas water heater from our list and chances are – you'll be a happy buyer. After all, Rheem has been providing tank-based water heaters for decades. So you can count on safe, reliable and consistent service too.
If you checked out other Rheem 40 gallon gas water heater reviews before landing here, you're probably looking for some clarity. It can get pretty confusing – particularly when all the water heaters you're looking at seem the same.
These 40 gallon tanks are a perfect fit for many small and medium-size families. Ideally they are best suited to households of up to four people. But depending on usage, these units can serve even more – up to about 6 individuals living under the same roof.
Essentially, the model you choose comes down primarily to your chosen space and current fuel supply. Select the tall or short tank that gives you the best fit with as little customized fitting as possible. If you have natural gas now – stick with a new natural gas model. You also can choose between atmospheric gas water heaters and powered damper models.
Home Page of All Water Products