One of these three Rheem 40 gallon electric water heater choices will be the best choice for your home or business.
Either thinner and taller, shorter and wider, or the really short lowboy with the flat countertop surface.
Rheem 40 Gallon Electric Water Heater: Your 3 Best Options For Dependable, Energy-Efficient Hot Water In Your Home
A stellar choice in the replacement water heater category that's different from the variety of propane and natural gas-fueled systems, is the Rheem 40 gallon electric water heater. If you're looking to replace the electric model you currently own – you need to look no further than these 40 gallon units offered by the most well-established brand in the business.
Rheem has a long history in the industry and has become one of the most reputable names in water heaters. Not just in the United States, but around the world. So it's no surprise that they have multiple water heaters of various types, available in many different sizes.
Specifically, when it comes to a Rheem 40 gal. electric water heater – there are three models you might want to check out in closer detail. And we've made it easy for you with a brief and realistic summary of each version – right here on this page.
The Size You Want – Three Different Ways
A reliable hot water tank with a capacity of 40 gallons makes a good fit for a lot of small to mid-size family homes. But it's also an excellent choice for a cottage or lake home too.
Which one of the three is best for you will depend on the actual space you have available. As well as your specific use requirements.
What we will look at here is one slightly taller model, a medium-size version, plus the most unique water heater we've come across in some time – the Rheem 40 gallon lowboy electric water heater. This one is actually housed inside a cabinet that fits tight up against a wall. Thus, making it perfect for a laundry or utility room – or even a kitchen.

Shopping Simplified
Our objective here is to simplify the selection process for you. You're already searching for a Rheem water heater of a specific size. But we know that it can get quite confusing for consumers to sort out the important details from the insignificant.
And the situation is further complicated by faulty or inaccurate information. As witnessed in at least a couple of other Rheem 40 gallon electric water heater reviews floating around in cyberspace. That's not going to help anybody.
Our goal is to provide you with accurate guidance – real details that matter. So you can decide with confidence as to which water heater will best meet your needs.
If your existing water heater you're replacing is electric, it may make perfect sense to get one of these Rheem 40 gallon electric water heater versions, since you've already determined the size you want.
Some homes are not serviced by natural gas or propane and therefore an electric hot water heater seems to be the most logical choice.
Now let's take a closer look at the three versions to see what each provides. Once you're clear on these three variations of the Rheem 40 gallon electric water heater, it will likely be easier to decide. You'll be looking at the situation as a more informed consumer, and that's always the best way to go when making any kind of purchase.
This is the taller version of Rheem's electric Professional Classic Plus 40 gallon water heater. It is designed to provide hot water consistently over a longer period of time and at a lower operational cost to you.
Let's face it – a water heater isn't something we tend to worry about. We've come to expect plenty of hot water whenever we turn on the tap. So once it's installed and operating as it should, most of us forget all about the water heater we rely on every day.
Of course, regular inspections and maintenance are recommended. But with a quality product like this one from Rheem you can rest assured that it's going to give you the hot water you seek as economically as possible (for an electric water heater). Chances are it will outlast other lesser products from competing manufacturers.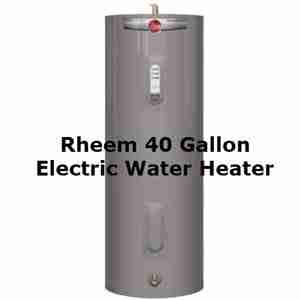 Taller and Thinner. Rheem Model # Pro+E40 T2 RH95 EC1
Ultimately, it boils down to value. Judging by the feedback from previous buyers (many of whom owned earlier editions of a Rheem water heater) the value offered on these 40 gallon units is substantial.
Self Cleaning Design Prevents Build-Up and Extends Life
An excellent feature on this water heater is the self-cleaning system that is built in. This helps eliminate any sediment that builds up by using a spiraling stream of forced water.
By reducing and controlling the sediment buildup your water heater is able to operate more efficiently. This makes the most of your money and likely extends the life of the tank itself.
Speaking of tank protection there's also an exclusive anode rod used by Rheem that protects the glass lined tank. Enabling you to get years of worry-free service from your water heater. Plus, there's a pressure and temperature release value.
It also features a high temperature shut off switch that cuts the power should the water temperature reach a dangerously high level. Also, the automatic thermostat allows you to set and maintain the water at the temperature you desire.
Also built in to the Rheem 40 gallon electric water heater is the brass drain valve. This allows for enhanced water flow and generally lasts a whole lot longer than those cheaper plastic drain values some brands use.
Rheem also provides an energy efficient water heater. With an isolated tank design, conductive heat loss is minimized. Thereby channeling more of the heat generated directly to the water – where it should be.
Essentially what you're getting is an energy efficient and dependable 40 gallon water heater that's electrically-powered. It is a 240 volt single phase device that requires direct wiring that is typically best left to a professional.
This model – plus the other two we review in this article – is designed to be installed indoors. Overall, the diameter of the Model # Pro+E40 T2 RH95 EC 1 measures 19.25 inches and the total height reaches 65.63 inches. As for an overall weight measurement, this particular model tips the scale at 109 pounds.
Easy Visual Monitoring With LED Lights
Another design element Rheem has added to their 40 gallon electric water tank models are LED lights that confirm that both heating elements are working as they should.
This makes it easy to confirm at a glance that your water heater is functioning properly and that no action is required. This added visual component makes it easy to monitor the performance of your water heater.
First hour recovery (FHR) capacity is listed at 55 gallons per hour (GPH) of hot water. And the recovery rate (at a 90°Fahrenheit rise in temperature) is 21 gallons per hour.
This model is identical to the previous version we just covered with one major difference.  And that difference is the overall size and physical configuration of the unit.
This version is slightly shorter (what Rheem considers medium size) in height, with a slightly larger diameter. But all features and performance are essentially the same.
This means that you get the same isolated tank design (minimizing conductive heat loss) and dual stainless steel heating elements. Plus, an exclusively designed anode rod to extend the tank's life, solid brass drain valve, and a temperature and pressure control valve.
Also, there's the LED monitoring function too, which is pretty cool.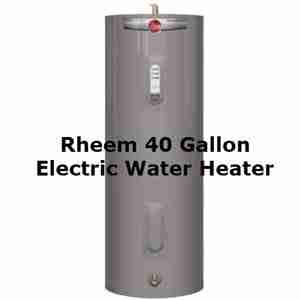 Medium height and a bit wider than the tall version. Rheem model # PRO+E40M2RH95EC1
Capacity wise, with this Rheem 40 gallon electric hot water heater, you're also getting the same water heating capability. That's a first hour rating of 55 gallons per hour and a recovery rate of 21 gallons per hour at a 90°Fahrenheit rise in the water's temperature.
This version also offers the same high-performance at a lower operating cost than you get from the taller version. That's thanks to the built-in energy efficiency (both models boast an energy efficiency factor of 0.93).
Chances are you may also qualify for any electric utility incentive program offered by your utility. That's due to the efficiency of this water heater. Which is certainly in line with those energy saving guidelines.
Another great feature about this medium sized unit and the taller model is that the electric junction box is located right on top, just above the heating elements. This makes for more accessible wiring and an easier installation overall.
Like the tall unit, this one involves direct wiring and 220 volts. So, you want to make sure you know what you're doing if you're installing the water heater yourself. We recommend hiring a qualified professional to do the job for you.
With a built-in automatic thermostat, you can set the temperature once and have your hot water flow at this level. Should the water get too hot, the system will automatically shut down.
Overall dimensions of this model are 20.25 inches in diameter by 50.5 inches high. As with the other models, this one should only be installed indoors. It also comes with an eight year warranty. Which can be converted into a 12 year warranty, for an additional charge.
Dependability From Intelligent Design and Quality Parts
Together, both of these water heaters boast an impressive rating of 4.8 out of 5 possible stars. This is important to note as these ratings are provided by previous buyers who took the time to leave feedback afterwards.
Interestingly, in several cases these customers were actual repeat buyers, coming back to acquire a new Rheem 40 gal. electric water heater. This is after having owned another model by the same manufacturer for years before needing this brand new replacement.
What Buyers Like Most About Both Models
Heats the water fast (with speedy recovery times too)
Keeps up with the demand placed on a hot water heater
LED lights are nice feature that's been added. This built-in diagnostic system provides visual confirmation that both heating elements are working as designed.
Relatively easy installation
Produces hot water more efficiently then the old tank-style water heater it replaces
Good quality product at a fair price
Provides the kind of reliable service Rheem has become known for
It's everything a residential water heater should be
Makes an excellent option for a permanent home as well as a cottage or lakefront home
Dual stainless steel heating elements (these tend to last longer than those made from other materials)
What Some Didn't Like
Temperature control is preset and can take some time to figure out how to change it. (But if you make the water too hot, the system's safety shut down feature activates)
Rebates and Warranty
Both water heaters meet the standards set out by many electric utility incentive programs. This makes it possible for you to qualify for additional rebates (where applicable). Though actual rebate amounts vary from one location or region to the next. Whether or not these apply where you live, it's nice to know that if they do, this water heater makes it possible to save more money.
As far as the warranty goes, the tank and all parts on these two Rheem 40 gallon water heaters are covered by an eight year limited warranty direct from the manufacturer. Plus, with Rheem's own Protection Plus program, you can upgrade your 8 year warranty into a 12 year warranty.
This is a shorter "lowboy" version of the Rheem 40 gallon electric water heater. But this one is notably different in that it is housed in a structure designed to look like a lower kitchen or utility room cabinet. From a practicality viewpoint – this one earns top marks.
The advantage of this system is that it makes a small but practical work area out of what would otherwise be useless space. The cabinet encloses the unit as well as the connections and the countertop sits just above the water heater.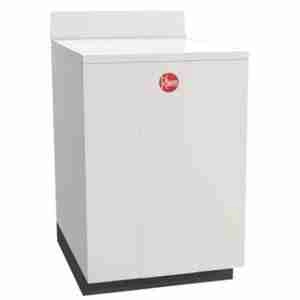 Get This One – Click Here
This is something you just don't see on 99.9% of water heaters. In most cases, any space taken by the water heater becomes single use space. But this one makes intelligent use of what would otherwise be completely unusable space.
It's easy to get to the tank whenever necessary. Both the countertop surface and access panels are easily removed. Giving you ready access to the hot and cold water connections as well as the electrical wiring.
There's a built-in magnesium anode rod with resistor to help protect the tank from premature rusting. But if necessary, anode rod replacement can be accomplished through the top of the hot water tank as well.
You get a fully functional 40 gallon water heater made by Rheem. And since the unit is housed in an attractive cabinet, it is nicely tucked away and out of sight.
Overall dimensions of the cabinet enclosure are as follows:
The depth equals 25 inches
The width measures 24 inches
Total height is 36 inches
Overall weight tops out at 156 pounds
This version of the Rheem 40 gallon electric water heater is about the size of a compact bathroom vanity. So, it can work well in a variety of settings. On top of the cabinet is a baked enamel countertop that is both heat resistant as well as acid resistant.
The countertop also comes with a 4 inch backsplash (the standard size you're likely to find on most kitchen countertops). Which helps protect the walls from stains and spills.
Clearly, this model is durable and useful. Not just for a utility room – but for a kitchen, workshop, or laundry room too.
You get the same kind of quality performance as you would expect from a Rheem water heater. First hour delivery is stated as 50 gallons. Recovery capacity measures 21 gallons per hour at a 90°Fahrenheit increase in temperature.
And the uniform energy factor (UEF) of this model comes in at a 0.81 rating. What you're getting here with the lowboy model from Rheem is readily-available hot water at a reasonably low operating cost.
Included on this model is a long lasting solid brass, full-flow drain valve. As well as a pressure and temperature relief valve (a built-in safety feature). All parts are standard equipment and readily available. 
If you want a clean and finished look instead of a fully exposed water heater (as the vast majority are) this one is for you. The base of the cabinet is recessed at the bottom. So, you can comfortably stand and use the countertop just like you do in the kitchen.
Plumbing Details of The Rheem 40 Gallon Lowboy Electric Water Heater
But what's really nice about this cabinet is that it has recesses built at the back to accommodate the piping that connects to the water heater. This design feature allows you to set the cabinet tight against the wall to conceal not just the water tank itself but the connecting pipes and wiring too.
As with the other Rheem water heaters, the default setting on the thermostat is 120°F.
When water temperatures soar above 125°F it can quickly cause severe burns. For homes with young kids, people with disabilities, or elderly folks – a setting at 120° maximum (or lower) is best to prevent anyone coming into contact with excessively hot water.
Oh and… should you need to access the adjustable thermostat, you can find it located just behind the access panel.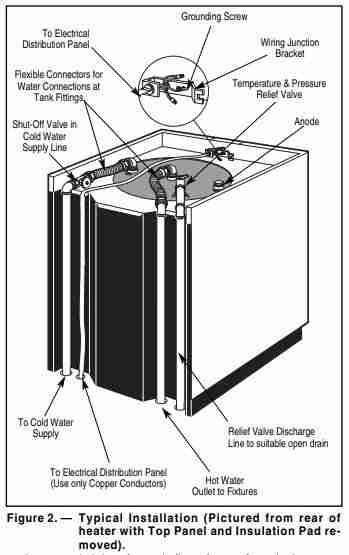 Great Choice For Small Homes – Click Here
Just like with any tank-type water heater, the tank needs to be full of water before the power is activated. The closer you can locate the water heater to the area that is going to use the most hot water can be helpful.
Be sure to protect the system from freezing temperatures. So if you locate your water heater on an exterior wall, you'll need to also install insulation along the pipes.  
With a regular maintenance program, these Rheem 40 gallon electric water heater models should provide multiple years of reliable service. Plus, providing the hot water as you need it – when you need it.
Periodic maintenance and inspection of the operating controls, heating elements and wiring can help avoid those unfortunate situations of water heater failure. If you've ever had this happen to you – you know that it usually happens at the most inconvenient of times.
This model is a solid choice for any utility room, workroom, shop, kitchen, or laundry room. Anywhere you need a reliable electric water heater and could benefit from some additional counter space too. It's also a solid option whenever you don't necessarily want your water heater exposed from a visual perspective.
The warranty on this particular model covers the tank and all parts for a period of six years.
In short, what you're getting with the Rheem 40 gallon lowboy electric water heater is a useful 40 gallon water heating system that is electric, operating on a 240 Volt single phase circuit.
But what you also get is a complete enclosure with a large countertop surface area. This makes it a more practical solution, while concealing the water heater and all the connections too.
Our Verdict On These Rheem 40 Gallon Electric Water Heater Reviews
If you're in the market for a reliable performer, any of these Rheem 40 gallon electric water heater versions will do. But which one is best, depends on your specific needs and available space.
So, get out your tape measure and check for yourself. Does the tall model fit your space, or would the medium size 40 gallon water heater be a better match? The only way to know for sure is to check the space where your existing water heater is located.
If on the other hand, you have the need to hide your water heater, electrical and plumbing connections – and gain some useful counter space in the process – then your best bet is to opt for the Rheem 40 gallon lowboy electric water heater.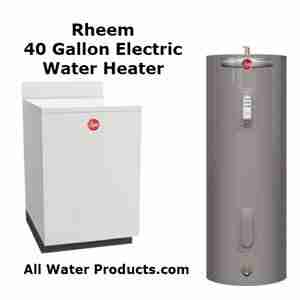 See ALL of the Rheem 40 gallon electric hot water heaters – Click Here
Whichever model you ultimately settle on, you can rest assured that you're getting a quality product from one of the best established companies in the entire industry.
Related article: Rheem electric hybrid water heater
The All Water Products Home Page is Here