(Last Updated On: November 17, 2023)
Choosing an RV tankless water heater over just replacing the old tank style heater is a great choice, but might not be doable.
Price and installation costs are just one factor to consider. The size of the heater, the GPM (gallons per minute) flowrate, single or dual fuel sources, and installation location, can ultimately decide what to buy.
Is An RV Tankless Water Heater In Your Future?
If there is one thing most RV users love having, it's plenty of hot water on demand, but unfortunately, most traditional RV water heaters are often not able to provide it.
This is especially true if more than one person wants to take a hot shower at the same time, or one showers while another washes the dishes.
Tankless water heaters can solve this problem by supplying a steady stream of hot water on demand.
However, not all hot water heaters suitable for use in RVs are the same. They come in different flow rates, fuel types, and many models have special features. All of these factors play a role when you need to decide which type of water heater is best suited for your RV.
Choosing the perfect type of water heater for your RV can be tricky, especially if this is not something you've done before. That is why I've decided to do all the research for you.
In this guide, I'll evaluate some of the best water heaters available on the market for travel trailers, campers, and RVs. I'll take a look at the various types of heat sources available, and the features that may come in handy.
Also, I'll help you understand how to determine which flow rate you will need to ensure that you always have plenty of hot water available on demand for your RV.
Buyer's Guide To RV Water Heaters
An essential piece of an enjoyable RV experience is to have a high-quality water heater for your RV. If you live in your RV, or are planning on traveling often, making sure you have the best RV water heater possible becomes nearly as important as using the best tires available.
This device will, after all, control how much hot water you have access to. This means it has a direct impact on your abilities to shower, do laundry, and doing the dishes. If you consider its impact on your enjoyment, it makes total sense that every RV owner should buy the best water heater they can.
Unfortunately, some of the water heaters available on the market are actually very bad. That is why a buyer's guide like this one is absolutely crucial to help you understand which high-quality ones are worthwhile looking at.
When doing so, we'll look at a number of things, including different features and types, as well as all the relevant questions previous customers have asked while trying to decide which unit to buy. This information will help make your search for a water heater for your RV much less complicated and easier.
RV Tankless Water Heater Benefits
Energy efficiency. Tankless hot water heaters for RVs are more energy efficient when compared to traditional storage tank water heaters. This is mainly due to that fact that they don't lose heat from hot water that is standing idly in a tank.
Hot water on demand. Good tankless water heaters are able to provide a steady stream of unlimited hot water when you need it for washing dishes, showering, etc. This supply of hot water is also virtually limitless when compared to that supplied by a storage tank unit.
Durability. On average, a tankless water heater will last for about 20 years, compared to traditional tanked water heaters that typically last for between 10 and 15 years. If maintained properly, some brands of tankless water heaters can even last for as long as 25 to 30 years.
Efficient water distribution. Using multiple showers while at the same time washing clothes or doing the dishes in a camper is not a problem. The tankless water heaters will enable you to use hot water at multiple appliances simultaneously by producing hot water on demand.
Cost effectiveness: Tankless water heaters for RV appliances and showers heat water more efficiently than traditional tanked water heaters do, and therefore consume less energy. This will result in a substantial energy cost saving.
Water conservation. Using a tankless water heater means you will no longer be wasting water by running it down the drain while you wait for hot water to arrive. Tankless units heat the water much faster than what traditional tank heaters do.
The information below will assist you in selecting the RV water heater that is best suited for your specific situation. We will also try to answer some of the many questions that you probably already have.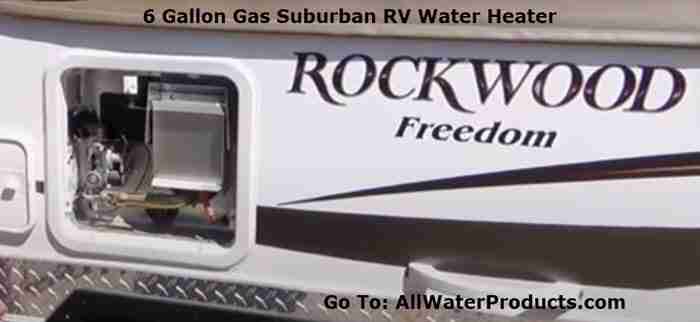 What You Should Know When Selecting A RV Water Heater
As with any other product, there are a number of different things you need to take into consideration when trying to find a RV water heater that is high quality. The sheer number of factors involved may in fact make the whole process pretty overwhelming.
In the next section, we'll discuss a number of those factors to help make your search for a water heater easier.
Power Sources
One of the main factors you'll have to look at is which power source you will use for your RV water heater. There are typically three options: fully electric, fully liquid propane, and a combination of propane or electric.
It should be noted that gas water heaters generally need more maintenance, while electric water heaters have higher operating costs.
However, at the end of the day, you should choose the power source that is most suitable for your requirements.
Tankless or Tanked?
You will also have to decide whether you want a tanked or tankless water heater. There are reasons and benefits for both side of this equation.
Tanked models will for example do the job and they also cost substantially less to buy than what tankless models do. Tanked models are however much bigger and will therefore require more space. They also don't offer some of the many new technological advancements that tankless units do.
If you decide to use a tankless model, you will obviously not have a tank, but it will still provide you with a stream of hot water continuously. These models not only heat up water instantly, but will only do this when hot water is needed.
This tankless heater fits in the same space as your old heater. Click Here
However, if the water has to travel any distance to the point of use, you'll be wasting water, and waiting, until the hot water arrives.
One of the disadvantages of models with a tank is that the warm water in the tank always experiences heat loss, meaning that they have to work continuously to keep the water hot. It should also be noted that a tankless water heater will have less energy costs, as they will only need to heat water when it is needed.
Based on the information above, it's easy to understand why many RV owners prefer to use tankless models. The initial purchase price is however significant with the tankless models being more expensive. Also, the installation of a tankless water heater is also slightly more complex than that of a standard tanked water heater.
Also, see my article: Suburban RV Water Heater Guide: 6-10-12 Gallon and Tankless
What Flowrate is Needed?
For tankless water heaters, the flow rate is the volume of hot water it can produce per minute. As most people will use the water heater mainly for showering, the tankless water heater for your RV should cater for a typical family. So, it should be able to produce between 2 and 2.5 GPM (gallons of hot water per minute).
Before you purchase a tankless water heater for your RV, you should first estimate your hot water consumption, as this will help you determine which size is required. A shower typically uses between 1.5 and 2.5 GPM, while a toilet sink and bathtub uses 2 and 4.5 GPM respectively. A kitchen sink uses about 1.5 GPM.
To get the best tankless water heater that is suitable for your RV, first determine how many of the hot water appliance in your RV you will use at the same time. Add the appliances' flowrates to get the total flowrate you will need from your tankless water heater.
Physical Size
Before you can select a suitable water heater for your requirements, you need to know what physical size you need. You will be surprised to learn that many people buy a water heater online, only to come back later and complain that it does not fit into the space where their previous heater was installed. Don't become one of those statistics!
Before buying a new water heater, measure the space where it's going to be installed carefully. Also, consider how much space is needed to make pipe and electrical connections. This will ensure you never purchase a unit that is simply too big to fit into your RV.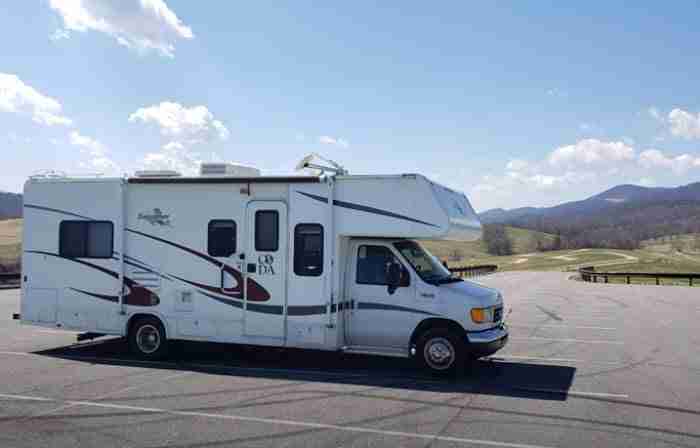 Heat Output
The British Thermal Units (BTU) of a tankless water heater is the heat capacity it can generate. Depending on the area, the temperature of groundwater varies, and more energy is required to heat groundwater that is colder.
Tankless water heaters typically have a rating from 30,000 to 50,000 BTU. This is slightly less than what is normally used at a home. A unit with a higher BTU rating will be more efficient at heating colder water to the required temperature, and will also heat the water quicker.
It is therefore not a bad idea to find a water heater that has the biggest BTU rating within your budget. If you do however decide to use this approach, make sure this model will also meet all the other requirements, like size and GPM.
Water Capacity
If you often have many people using your RV and run multiple showers per day, you'll need a water heater with the capability to supply sufficient hot water. This means you'll have to look at the unit's water capacity when you're evaluating different models.
You will find many 6 to 10 gallon water heaters, but for a family traveling together, this standard tank size is not going to be enough. If you often travel with your whole family, don't count on these tanks for a shower.
Why? Even at a water saving 1.5 gallons per minute showerhead, a 10 minute shower will use 15 gallons of water. So, you will need to be hooked up at a campsite to have enough water to shower.
The Atwood 10 gallon water heater actually provides 16 gallons of hot water – read more.
Durability
Durability is a big factor when you need to select a new water heater, as you'll want a water heater for your RV that lasts a very long time. When evaluating water heaters, look for ones that are designed with good quality materials that won't easily corrode or rust.
Buying a water heater will cost a substantial amount. So, you definitely don't want to land up in the position where you have to spend more on a new unit anytime soon.
When you do your research, check customer reviews, especially the low rating ones, to make sure there are no issues that have been reported that mention the product breaking, rusting, or malfunctioning. This will help to greatly reduce your risk of buying a RV water heater that doesn't last as long as you expect it to.
Installation
How easy or difficult these products are to install will be a big factor in determining how good your experience is with the unit you decide to buy. There is nothing worse than buying a RV water heater, only to find out later that you have problems installing it and can't get it running properly.
To avoid landing up in this situation, check the customer reviews to see what they say about the ease of installation.
It should however also be noted that many manufacturers require that you use an expert to install their product, and failing to do so will probably void the warranty on the unit. Using professional installers can however be very expensive, and this is why many owners on a tight budget select a model they can install themselves.
Customer reviews are great for finding out if you'll be able to install the unit you're looking at buying yourself.
Water Heaters with Tanks
Most water heater models that are suitable for a RV and use a tank are powered by propane. These normally have a tank with a capacity of between 6 and 10 gallons. You will however find exceptions to this and will be able to find models that have 4 or 16 gallon tanks.
Although many of the water heaters for RVs can only be powered with propane, there are models available that have the option to use propane or electricity to supply power to the heater. Always check to see which power source the unit you're looking at uses. (More about this later in this article)
Propane water heaters either use a direct spark ignition or a pilot light to get them started. Pilot light models need to be lit, but this should only be done once the RV has been parked and leveled.
Things are a lot simpler with RV water heaters that use direct spark ignition, as pilot lights can sometimes be annoying and tricky to get going. With direct spark ignition models, you simply need to turn it on with a switch after your RV has been parked.
Once propane fueled water heaters are operating, they have a built-in safety system to prevent anything from going wrong, including temperature and pressure regulators.
RV Tankless Water Heaters
This type of water heater for RVs operate differently than the traditional tank-based units do, and they tend to be more advanced technologically.
This type of water heater only heats the water once it starts running out the showerhead or faucet. When a hot water tap is opened and water starts running, the water heater senses this and switches on. The water flowing through the heat transfer element in the water heater will then be heated instantaneously.
The water must however be flowing for the heater to turn on. So, if you just want to rinse your hands, you will waste some water before the hot water arrives.
This results in a tankless water heater providing users with a constant supply of hot water whenever they need it. Tankless water heaters often use LP gas as a power source, as this provides the fastest way to heat water.
It should also be noted that tankless water heaters will save energy costs as they only heat water when it is needed. With water heaters that use tanks, the hot water inside the tank will be subject to heat loss. So, this will result in the unit having to continuously reheat the water, even when it is not being used.
Based on the above, it's simple to understand why tankless water heater models are becoming increasingly more popular. Tankless water heaters models do however have one sever drawback, and that is that they are more expensive than tank-based units.
Electric Water Heaters for RVs
Typically, electric water heaters for RVs use 120 volts and this is enough to heat a RV's water comfortably. Some electric water heaters simply need to be plugged into a power socket and switched on.
When using an electric water heater, you can run it directly from the power provided by the campground, or run it on power from a generator.
An electric water heater for your RV is a very convenient option, and these units use energy more efficiently than what propane powered units do. However, they are slightly more expensive.
The smaller 110-120 volt tankless ones are only going to provide enough hot water to wash your hands or as a booster to a tank type water heater. As a booster, you can get enough water flow for a shower.
Larger tankless heaters that run on 240 volts can provide water for a shower and sink at the same time.
Liquid Propane Water Heaters for RVs
RV water heaters powered by liquid propane are the most basic type.
Chances are high that you have a liquid propane water heater for your caravan or RV, unless you own a luxury "Class A" motorhome or RV.
This type of model is the tried and tested workhorse of water heaters in the market.
Liquid propane water heaters can be started either by using a pilot light, or via a direct spark ignition.
Direct spark ignition models are more advanced and are therefore easier to use.
Direct spark ignition models operate via controls that detect when it has to switch on the igniter. With a pilot light model, the light has to be lit manually when it goes out.
Opting to get a water heater that uses direct spark ignition is definitely the easier and safer route, especially if you're a bit fearful about lighting a pilot light. If you however decide to buy a direct spark ignition liquid propane RV water heater, be aware that they cost slightly more than the basic pilot light heaters.
Liquid Propane and Electric Water Heaters for RVs
As the name liquid propane and electric RV water heaters implies, many RV water heaters give you the choice to select the power source you prefer at any stage: either electricity or liquid propane. This model of water heater is the most versatile to have available on your trips.
With water heaters of this type, you get to select which fuel you want to use depending on what source is available, and you will always have the other option in the case of emergencies. You never know what will happen while you're RVing, but with this type of water heater, you can be pretty sure that hot water will always be available.
The Most Popular RV Tankless Water Heater Brands
In this part of the guide, we'll take a look at some of the best RV water heater manufacturers. This will help you understand why they perform better than the competition.
Suburban
This leading manufacturer supplies RV owners not only with water heaters, but also with cooking equipment and normal heaters.
Suburban is a force to be reckoned with in the RV equipment marketplace and customers simply love the quality of this brand and keep on coming back to buy more of their products.
Suburban in fact prides themselves on manufacturing products that offer longevity and reliable performance. RV owners love to use products that function efficiently and will last for a very long time.
Very popular Suburban SW6DE RV water heater. Click Here
Based in Dayton, Tennessee, Suburban Manufacturing was founded in 1947 and is a leading manufacturer and supplier of water heating, RV heating, and cooking appliances. It is currently part of the Airxcel Inc. group.
One of their most popular products is the new Suburban Sw6De model with spark ignition. You can use gas or electric, or both at the same time, depending upon your needs.
Atwood
The Atwood Mobile Products company was established in 1909 and moved into the RV market in 1936 when travel trailers became popular.
Atwood products are now sold under the Dometic brand, and their range includes water heaters for RVs, as well as air conditioners, cooktops and furnaces.
One of their best products is the 6 or 10 gallon Atwood Mobile Products water heater with pilot light ignition.
Eccotemp
Eccotemp is seen as one of the best sellers of portable tankless water heaters globally. The brand is reputed to meet all expectations of customers wanting to use RV equipment. Read my review of the Eccotemp L5 portable propane tankless water heater.
This company prides itself in its customer satisfaction and customer service. They do this believing that everything they do should impact positively on their customers' lives.
The Girard group
Based in Clemente, California, Girard Products started manufacturing RV tankless water heaters in 2009. Today it is one of the best-selling tankless water heater companies for RVs.
Rinnai RV Tankless Water Heater
The very respected Rinnai brand was established in Japan in 1920 and launched its first tankless water heater shortly thereafter. Rinnai America is one of a few tankless water heater manufacturers that has its own Canadian Standards Association (CSA) Certified Testing Laboratory.
One of their products that comes highly recommended is the natural gas RL75IN Luxury Series that must be installed indoors. Also, since it uses natural gas, it is only usable when at a campgound that can provide natural gas.
Excel
Based in Miami, Florida, Excel has been operating since 2004. The company manufactures and supplies its gasFlex flexible gas piping system, as well as a range of Excel tankless gas water heaters.
Excel Pro Natural Gas Tankless Gas Water Heater – Click Here
Takagi
The Takagi brand has been manufacturing tankless water heaters globally since 1952. It has regional offices in New Jersey, Tennessee, and California, as well as a global office in Canada.
If you find a water heater by one of the brands mentioned above and it meets your particular requirements, don't think twice about it. Just buy it, install it, and you won't ever have to be worried about having access to hot water again.
RV Tankless Water Heater Pricing
Over $500: It's not unusual for premium tankless water units to be sold at this price range and some units will even cost up to $1,000 and more. These water heaters are often used in small cabins and by individuals who live off the grid.
$200 to $500: Many of the most popular tankless water heaters for RVs can be found in this price range. They get the job done efficiently without being overly expensive.
Under $200: Although most small RV water heaters are above this dollar mark, there are a few models available for just under $200. However, they won't be as convenient, or provide as much hot water as the more expensive models do.
Maintaining a RV Water Heater
It is generally very easy to maintain RV water heaters, particularly tankless models. The unit's manual will normally contain detailed instructions about the maintenance process.
Limescale (hard mineral) build up is possible in tankless heaters. Such mineral deposits can be cleaned out with a vinegar solution that is pumped through the heater.
With tank-based systems however, there are a number of things you should be aware of that may not be mentioned in the manual.
One example of this is an anode rod on the inside of the unit. This rod's function is protecting the tank from corrosion and rust, and it achieves this by giving up itself through ionic transfer.
If the rod is mostly dissolved away, there will be little to protect the tank of your water heater from rusting. Most people agree that the anode rods should be inspected at least once per year to check they are still in good condition and can still perform their function.
Although some people believe anode rods should be replaced every year, there is not really any need to do so as long as they are still in good condition. Only replacing the rod when required will save you time and money.
The tank of tank-based water heaters should also be drained when the RV is not being used. Although this may seem logical, many people don't think about emptying the tank of their water heater.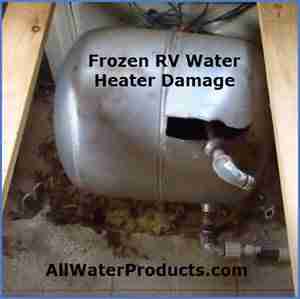 Apart from these few items, there's not much to do to maintain your RV water heater. To recap, check the heater's manual for any specific items, and for tank-based systems, flush the tank regularly and check the anode rod once a year, replacing it when required.
FAQs
Q: Why does only lukewarm water come out of the faucet or shower?
A: There are a number of reasons for this. Most commonly, the heater is undersized for the incoming water temperature. Reducing the flow should increase the water temperature, but may not be enough flow to be useful.
However, if this is the first time you are using the RV in the springtime, chances are pretty good that you forgot to turn off the bypass valve. Which means that the hot and cold water lines are diluting each other.
Q: How difficult is it to convert a tank-based water heater for a RV to one without a tank?
A: If you mentally go through the installation process before getting started, you will know what to expect, and what tools you will need. Which will make the whole process a lot easier.
Before making the conversion, select a tankless water heater that's the right size and uses the power source required.
After mounting the unit, connect the water, gas, and electricity lines, and install a flue vent if required. If you are unsure of your ability to do this job, you may want to consult a professional.
Q: Does an RV tankless water heater need to be cleaned?
A: Yes, especially if the unit has not been used in a while. Cleaning it regularly will kill off bacteria. Bacteria can come various sources. Including carbon water filters that have not been changed within the previous six months. Also, mineral deposits need to be removed by flushing the system with white vinegar.
Q: Can a tankless water heater be installed under a sink in the RV?
A: This is sometimes possible, depending on the size of the space and the size of the unit. Check the unit's specifications to ensure you know where the tankless water heater you want can be installed.
Q: Do RV tankless water heaters all require electricity?
A: Although some models use gas as a power source, some types need electricity to operate the automatic ignition. Other models' ignition is powered by a battery and these don't require electricity.
Atwood GC10A-4E-10 10 Gallon RV Water Heater Gas/Elec. DSI # 94018 Take A Good Look – Click Here
Although not directly related to RVs, here is a guide on buying water heaters.