Do you live in a warm climate? Then this Rheem heat pump water heater is nearly perfect for you. Not only will it pay for itself in about 2 years, but it will help dehumidify and cool the house.
However, if you live in a cold state like Minnesota, then this Rhreem hybrid water heater is still an excellent choice. In that case you will want to put it into the basement. Your energy savings will still be substantial. Plus that damp basement will be kept dry.
Hot water, dehumidifying, and air conditioning all in one package – what a deal.
These ProTerra heat pumps will handle even the largest homes. Take A Closer Look – Click Here
Rheem Heat Pump Water Heater Review
Looking for a water heater that can handle multiple showers, dishwashing and laundry – all at the same time? While using less energy and saving you money on your electricity bill?
Fact is, the Rheem ProTerra Heat Pump Water Heater allows you to enjoy all the hot water you need and at the same time helps to reduce your carbon footprint.
Maximum Efficiency Plus Impressive Savings
According to the manufacturer (Rheem), this one is the most efficient water heater on the market today. I wouldn't disagree with that assertion after having checked out in detail, numerous brands and models of water heaters over the past several months.
The Rheem heat pump water heater offers everything you would want in a water heater. Like water to your ideal temperature – whenever and wherever you need it.
It's an Energy Star certified water heater that's 400% more effective than any standard electric water heater. And due to its efficiency, can save you on average $480 per year in reduced electricity costs. That's nearly $5000 over 10 years.
*Actual cost savings achieved by a sampling of previous buyers range anywhere from about $10 or $15 a month all the way up to about $85 per month.
Think about that for a moment and let it sink in. You can let things remain the same and essentially spend about five grand more to heat the water in your home over the next ten years. Or, you can pocket the extra cash by upgrading your water heater to the Rheem ProTerra heat pump water heater.
Even More Savings From The Rheem Heat Pump Water Heater
Depending on when you happen to stumble upon this information, you may also qualify for a $300 federal tax credit.
You should also look into any possible rebates or credits offered at the state or local government level for energy efficient upgrades.
That's something that would make the Rheem heat pump water heater an even better value. But even if you miss qualifying for any extra bonus credit – it's still a stellar choice as an energy efficient water heater, as you're about to see.
A Replacement Water Heater That Pays For Itself
If you're looking for a replacement water heater that does the job of providing ready hot water throughout your home – the Rheem ProTerra is worth considering on its functionality alone. However, the fact that it will help lower operating costs (compared to a standard hot water tank) – makes it shine even brighter.
In fact, this water heater should pay for itself in the first two to three years of ownership. That estimate is based on what you would already be paying to run a standard electric hot water tank.
Choose The Right Size For Your Family – Click Here Now
Thanks to its high uniform energy factor or UEF – an outstanding 4.0 on the 80 gallon Rheem hybrid water heater model – you are actually gaining a water heater that is four times more efficient. While producing fewer greenhouse gas emissions. That makes this line of modern water heating devices much more earth-friendly than any traditional tank-based electric water heater.
Leak Protection Too
The top models of the Rheem ProTerra heat pump water heater also have built-in leak detection protection. There's an automatic water shut off valve built-in that recognizes any leakage – small or large – in as little as 15 seconds.
This can save you from an enormous amount of damage caused by a leaking water tank, giving you greater peace of mind.
The ProTerra we most recommend come in 50 gallon, 65 gallon and 80 gallon capacities. All are furnished with a 10 year limited tank and parts warranty.
Control From Your Phone or Tablet
Not only is this a water heater – it's a smart-enabled device too. That means you can use your home's Wi-Fi to control your water heater from your cell phone or tablet.
Connecting to the eco-net app enables you to adjust the water temperature, track your energy usage, and set it to vacation mode. Or any one of 5 different operating modes to suit your preferred use. And it's all accessible from any location – right from the palm of your hand.
The Rheem hybrid water heater provides five different modes that you can choose from. Including the energy saver, electric, heat pump, high demand, and vacation modes. Vacation mode can be set for 2-28 days when you're away from home, to minimize the power consumption used by your water heater.
Should any leak occur, the app alerts you with a notification within seconds.
You can monitor your energy usage on your iPhone or iPad – or compatible android device – and make adjustments that meet your needs while helping you save even more. By tracking usage weekly, monthly, or yearly – you can better manage consumption and further optimize your family's hot water usage for even better efficiency.
Serves As a Room Air Conditioner and Dehumidifier Too
The built-in heat pump function provides added benefits all year long.
It functions by drawing in warm air surrounding the water heater and pulling heat energy from this air to heat the water. All at an efficient rate of up to 4.0 UEF. It's a brilliant concept that actually works.
Not only does it draw in warm air – it releases cool, comfortable air in return. That's what many buyers (particularly those in warmer states like Florida, Arizona, Texas and California) really love about this aspect of the Rheem heat pump water heater.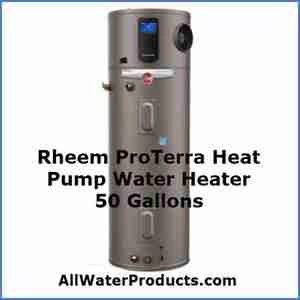 Excellent Choice For Most Homes Click Here
It expels cool air which is similar to air-conditioning and it functions as a dehumidifier at the same time. This makes it a perfect installation in any basement, garage, attic, laundry, mechanical, or utility room.
Set Your Own Schedule
Another great feature is that you can schedule your hot water to save even more. For example, if you tend to use more hot water in the morning as you and your family prepare for the day ahead, you can set the hot water heater to maximum use. That way, there will be plenty of hot water to go around.
But when no one is home, it makes sense to lower your energy usage by reducing hot water production. You can also schedule your water heater to come on in off-peak times where energy costs are lower. It is a smart device after all.
You Can Buy The Basic Version… But A Leakproof Model Offers More
Each of the three recommended sizes – 50 gallon, 65 gallon and 80 gallon tanks – is available as a basic option and with LeakGuard protection.
We 100% recommend the LeakGuard protected units. This built-in leak detection can spare you from a major disaster. It limits any leak to a maximum of 20 ounces of water, helping to contain any damage before it gets out of hand.
You get the same Rheem quality water heater in both versions and all sizes. That means the identical size tank… the same efficiency… and the same 10 year warranty. But with every LeakGuard model – you also get the added peace of mind of knowing that you're protected and that's something you just can't put a price on.
Have you've ever endured a major water damage event from a leaking appliance? Had to deal with insurance claims plus an endless stream of contractors trampling through your home for months on end? Then you'll especially appreciate this added peace of mind. Take a closer look at this Rheem hybrid water heater.
Hot Water Fast
The Rheem heat pump water heater delivers hot water faster than most standard electric water heaters. It also offers the widest range in temperatures providing a variation from 37°F all the way up to 145°F.
Installation is straightforward and this system can easily replace any standard electric water heater as it is. Access to the electrical junction box is readily available making it easy to connect electrically. However, to maintain the warranty it's best to arrange professional installation.
Digital Display
Another neat thing about the Rheem ProTerra heat pump water heater is that it has a built-in LED screen right on the unit, complete with a water sensor alert and audible alarm. It's also equipped with an integrated automatic water shut off valve should a leak of any sort ever be detected.

When you're going away, you can set the ProTerra to Away or Vacation mode. Thus saving the energy (and cash) usually allocated to heating your water supply. This can last anywhere from 2 to 28 days. Or you can place the unit on hold indefinitely, should you opt for a longer stay away from home.
Smart Design and Quality Manufacturing
These water heating units are built with quality in mind at every turn. For example, each Rheem hybrid water heater is built with stainless steel resistor elements and a premium level anode rod with resistor to extend the life of the hot water tank. Additionally, brass drain valves are deployed for longer-lasting durability.
The tank itself is surrounded with 2 inches of foam insulation, helping to retain that heat inside. Plus there is a temperature and pressure relief valve and dry fire protection built-in.
Energy Ratings Of The Rheem Heat Pump Water Heater
All 50 gallon models offer a UEF rating of 3.75 while all 65 gallon models offer a UEF of 3.85. On the 80 gallon models, there's a slight variation. The 15 amp unit offers a UEF rating of 3.70. And the 30 amp Rheem Prestige Series hybrid heat pump water heater (80 gallon) with LeakGuard offers the most impressive Uniform Energy Factor rating of 4.00.
Check Your Space And Assess Your Hot Water Demand
One way to estimate which size of tank is the best fit for you and your family is to review the manufacturers stated shower time capability for each size.
On the 50 gallon units, the maximum single shower time is limited to 23 minutes and you can have two of these showers back-to-back.
Step up to a 65 gallon unit and you can have a 30 minute shower. Plus, three of these back to back to back – without any issues.
Opt for the 80 gallon model (the most popular one among families) and you can enjoy showers of up to 36 minutes and have four of these in succession without any chance of running out of hot water. This should be enough for most households, but you may have to scale your showers to accommodate larger numbers.
Maximum Energy and Money Saving Water Heaters
Chances are you want to play around with the settings to see what gives you the best results. It's easy to do because you can control everything at your fingertips. We found that in the energy-saving mode it uses the least amount of electricity. Plus we were still able to have three comfortable showers before the water began cooling off somewhat.
The good news is that you can easily crank it up and switch to high demand mode and get hot water as you need it. Just be sure to adjust the temperature to suit your preference.

You won't run out of water even if you're doing laundry, running the dishwasher, a couple of showers, and the sink simultaneously. Continue to tweak your water heating schedule and you can discover even more savings.
It's really interesting to see the results you can get by these slight adjustments to the settings to maximize energy efficiency even more.
Additional Features Offered On Rheem ProTerra Heat Pump Water Heaters
These water heating units are essentially self-cleaning. Sediment buildup in the bottom of the tank is minimized, which in turn prolongs tank life and maximizes hot water production efficiency.
You'll also find that this hot water tank supplies more hot water than most standard electric tanks. Even the 50 gallon model can provide more than enough for two to three people. But it depends on your specific usage, of course. And in many cases, three to five people can easily get by on a 65 gallon unit.
But if you can accommodate the 80 gallon model, you're much more likely to enjoy abundant hot water. Even when you have extra guests staying at your home.

Since the Rheem heat pump water heater produces and disperses cool air, you can use it more effectively to cool the air where it might matter more than in an attic or utility room. Fittings are available to redirect this cooler air into your home's ductwork to cool down another room or area inside your home.
Plan For Your New Water Heater
It's important to measure the space you plan to allocate to your new water heater. The same applies to whatever model or make you ultimately settle on. These units are quite large, so you want to make sure that you have plenty of space.
But equally important is air circulation. A Rheem hybrid water heater draws air from around the tank itself. There also needs to be a drain located nearby so that you can drain it easily.
And of course you need to make sure that your electrical service can accommodate this 240 Volt electric water heater.
Set It and Enjoy
Want to indulge in a relaxing soak in the tub or Jacuzzi? Simply access the app on your smart phone and set your water heater to high demand mode. This will enable you to fill the tub with hot water to the temperature you prefer.
Then, once the tub is ready, you can go back to the app to turn it back down to energy-saving mode. That's how to get the most out of your new system without the needless waste that is unavoidable on most old tanks.
Pros
Cooler air dispersed makes any room or garage much more comfortable – particularly in summer
Helpful, knowledgeable customer service
Supplies plenty of hot water for the entire family. (Though it can take some time to get the settings just right to suit everyone in your household)
Built-in leak protection is sensitive and more helpful than expected with the peace of mind it provides
Easily controlled remotely via any smart device. (It's handy to be able to view how much energy your hot water tank is using at any time
Supplies plenty of energy efficient hot water
Having the ability to set a schedule and check your hot water status at any time is a plus
Relatively straightforward installation (with a professional installer)
With a decent Wi-Fi signal – you will have a connection to your hot water tank 24/7
While not cheap – it doesn't break the bank to buy this one either
Powerful and robust water heater
Offer significant cost savings on monthly electric bills (and you'll notice those savings immediately)
With the 80 gallon tank, someone can shower while the dishwasher and washing machine are both running at the same time – and you still get plenty of hot water
You can luxuriate in longer, hotter showers and you never have to worry about getting hit with cold water. Or feeling bad that you used it all so the next person in line has to wait
Provides a solid return on investment which is recovered relatively fast (2-3 years)
Water is hot and readily available and you shouldn't run out of hot water. (as long as you choose the right size tank to handle the load)
It's intuitive for the user with easy to adjust controls
Supplies abundant water that's probably hotter than what you're used to from your old tank
Well engineered and built
Reasonably quiet to operate (not silent, but not offensively loud either)
Dehumidifies and cools the air in the basement
Cons
As with any heat pump system, it  can get a little noisy when the compressor kicks in
Installation can be a little overwhelming if you're not experienced at this
Recovery times are not much better than a standard tank
This unit is taller (and more top-heavy) than a lot of standard hot water tanks so it takes two people to put it into place
The app could be improved with better access to sensor and energy use data
The 50 gallons unit is too small for an active family of four if you want to be able to shower, do the laundry and use the dishwasher at the same time
It's kind of slow to reheat water
The app can have a little trouble staying connected. (though this could be an issue with the Wi-Fi connection and not the water heater)
If your water heater is located in the basement, it can get a little cold down there, with the cool air distribution in a room that's already quite a bit cooler than the rest of the house
Our Verdict On The Rheem Heat Pump Water Heater
Imagine having enough hot water throughout your home from a water heater that actually uses less energy while running than a traditional 100 watt incandescent light bulb. That's what you get with a Rheem ProTerra heat pump water heater.
The Rheem hybrid water heater uses up to 75% less energy than a traditional tank based electric water heater. So, it can save you significant money and minimize your carbon footprint.
It is a brilliant design that actually pulls heat from the air surrounding it to heat the water up to whatever temperature you find most comfortable – up to a scorching 145 degrees F. And it does so by reducing the amount of energy required to attain that desirable temperature for showers, washing dishes, or doing the laundry.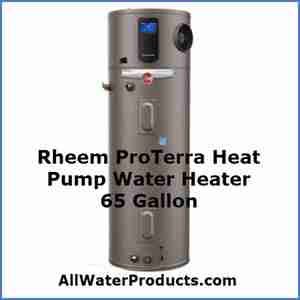 Use multiple showers or appliances at the same time with no worries. Get This One Now – Click Here
In our view, the Rheem heat pump water heater is a top level water heater from a company that has been around since 1925. That's why we give it our highest recommendation. 
Compare the Rhreem to the A.O. Smith Hybrid Water Heater