Want instant hot water in the master bath or kitchen sink? Then a point of use water heater is exactly what you need.
As the name implies, an electric Point of Use (POU) Water Heater, heats water at the location where it is being used.
240 volt tankless water heater provides 3.17 gallons per minute – enough for a shower and a sink at the same time. Take a look – Click Here Now
Where To Use An Electric Point Of Use Water Heater
These water heaters are small electric water heaters that are installed as close as possible to where the hot water is required, allowing users to get an unlimited stream of hot water fast. Depending on the size of the water heater, one unit can be installed to supply a single fixture or, providing the heater is sized correctly, multiple fixtures situated close together.
Point of use water heaters are also often referred to as mini water heaters, and they are ideal to solve problems where you have to wait for hot or warm water to arrive. This happens often in a situation where the main water heater for the home is located far away from a shower or sink you may be using often.
It therefore makes sense to use an electric point of use water heater in remote master bathrooms, a patio kitchen, a wet bar, office, RV or boat.
Tank or Tankless?
Point of use water heaters come in two types:
A point of use tankless water heater, which heats water as it flows through the unit.
Or a tanked point of use hot water heater that pre-heats the water and then stores it in a tank of between 2 and 7 gallons of water, depending upon the model.
The main difference between these two types is that a tankless point of use water heater heats a small volume of water endlessly.
Whereas a tanked model heats between 2 and 7 gallons of water that will be served up in a heavier flow if required, until the hot water runs out. The new tank full of water will then be reheated in a few minutes.
Some point of use electric water heaters can be plugged straight into a standard 120 volt electrical outlet, but many models using 240 volt are also available on the market.
Depending upon the wattage and size of the model electric water heater you select, it may be required to make electrical upgrades to your home. This could include installing a heavy duty circuit breaker, as well as installing new, heavier gauge (thicker) electrical wiring.
The water connections of a point of use water heater should be plumbed straight into the cold-water supply. While the outlet should be connected to the hot-water pipe of the faucet or shower.
Point of use water heaters tend to be much smaller than the old, traditional water heater types. Even the tanked models are smaller due to the actual tank being much smaller.
This makes it easy to install the unit in, for example, a cabinet under the sink or very close to it. The units can either stand on the floor or a cabinet's bottom, or can be mounted to a cabinet's side or a wall by using suitable brackets.
4 gallon tank works great for washing hands, shaving and more. Click Here
Why Use Point of Use Water Heaters?
Point of use water heaters not only save energy and water, but also offer comfort. If you always have to wait for a few minutes for hot water to arrive at your shower when you're taking one, this wastes a lot of water and time.
You may even decide that you don't have the patience or the time to wait for the hot water to arrive, and would rather take a lukewarm, or even a cold shower.
Waiting for the hot water for your shower also wastes a lot of water. If you install a point of use water heater for a shower, it will speed up the delivery of hot water to the shower dramatically as it will heat up the water right at the shower.
Hot water traveling from any water heater to an appliance will cool in the water pipes on its way to the shower or faucet. This results in the energy that was used to heat it being wasted.
Likewise, when the hot-water faucet or shower is shut off, there will still be hot water in the pipes, and it will lose its heat over time, once again wasting energy. As a point of use tankless water heater for a shower is installed as close as possible to the shower, it prevents the water and energy from being wasted.
As you won't have to let the water run for a long time before the hot water arrives, it will also save you time and prevent you from getting frustrated.
Selecting a Point of Use Water Heater
Storage type point of use water heaters have two ratings that you'll need to look at when selecting which model is most suitable for your specific requirements. These are their recovery rate (the time required to heat a full tank of water to 90°F) and their water capacity in gallons.
For tankless point of use water heaters, one of the main ratings you need to look at is its flow rate. The flow rate indicates how many gallons per minute (GPM) of water the unit can provide. Typical flow rates are between 0.5 GPM and 2.25 GPM.
In general, models with a bigger capacity and recovery or flow rate are more expensive. A manufacturer normally produces a range of products that come at different capacities, price points, flow rates and recovery rates.
Rheem, one of the many brands of point of use water heaters, for example offers a range from the Rheem RTEX-36 at the high end, to the Rheem RTEX-04 at the low end.
The RTEX-36 delivers 3.5-4.0 GPM of hot water in the coldest regions of the USA. Which is sufficient to run a sink and a shower at the same time. Or even two low flow showers at the same time.
Rheem Water Heaters:
RTEX-4 to RTEX-36 Check Them All Out – Click Here
While the RTEX-04 delivers 0.5 GPM of water, which is only enough for one sink. But only if you live in the southern stated where the ground water is at least 57 degrees.
Storage mini water heaters have typical tank sizes of 2.5, 3, 4, and 7 gallons.
Bosch, for example, offers a range from the Bosch ES8 at the high end, to the Bosch ES2.5 at the low end. The Bosch ES2.5 holds 2.5 gallons of hot water. While the Bosch ES8 holds 7.1 gallons of hot water.
Recovery rates also vary widely, and will be determined by the wattage and efficiency of the heating elements used.
Electric point of use water heater models are available in both 120 volt and 240 volt. The electrical specifications of more powerful 240 volt heaters will require additional wiring.
However, smaller 120 volt models are often easier to install, because they can be plugged into an outlet. Either under, or close to, a sink.
The wattage of the unit will determine what the electrical requirements for the unit are. In most cases, small units of up to 1400 watt (1.4kW) can be plugged into a standard outlet that is protected by a 20 amp circuit breaker.
However, If the power requirements of the unit are higher than that, 10 gauge electrical wire and a dedicated 30 amp circuit breaker is required. This is bigger than what is for example used to power a garbage disposal.
High demand high-flow models heat faster and more efficiently, but normally require a 240 volt power supply. However, many homes do not have 240 volt power outlets available close to a sink or showers.
Before selecting which point of use water heater you want to purchase, check the electrical hookups and circuits available in your home. If these are not suitable, your installation costs could be substantially higher than what you may expect. That's due to you having to install new wiring and circuit breakers.
Use Cases For Point of Use Water Heaters
An electric point of use water heater is most often used to heat cold water close to the fixture. Also, they can be used to increase the temperature of water at fixtures that are located far away from the central water heater. This is known as "boosting".
Adding a point of use water heater at the fixture may be a good option to improve system-wide energy efficiency. That is especially true when compared to having to turn up the temperature set-point of a storage water heater.
Using a point of use water heater may also be more energy efficient to heat a hot tub's water.
Point of use water heater should be considered for:
Hot tubs that use electricity to heat water.
Home additions when additional hot water points are required. A point of use water heater can be used with only cold water plumbing installed in this case.
New home construction where it is not practical or economical to minimize losses with a more efficient central heater, for example a heat pump.
For each of these cases, benefits and costs should be evaluated carefully before deciding which water heating approach is most suitable.
Generally, applications with one or more of the characteristics listed below are more likely to save energy if a decentralized water heating system is used:
Remote hot tubs, kitchens or bathrooms.
Low daily hot water usage, e.g. less than 20 gallons per day.
Fixtures located far away from the central heater and/or other fixtures.
Advantages and Disadvantages
Advantages
Point of use water heaters are ideal to supply hot water to fixtures that are remote and not served by the central heating system, and where retrofitting is either impractical to do, or too expensive.
Do you have a fixture that is far away from the central heating unit and it takes a long time for the hot water to arrive? Installing a point of use hot water heater will reduce the waiting time, as well as energy and water usage. These units are nearly 100% energy efficient.
When installing a tankless model in-line with a mini tank, they function as a buffer that minimizes the temperature fluctuation, known as "cold water sandwiching" and increase your comfort.
The Stiebel Eltron Tempra 20 Plus provides hot water for one shower in northern states or 2 showers in southern states. There are 12 models to pick from to meet your exact needs. Click Here
With larger buildings, it might be more suitable to install several point of use units, rather than a high-capacity tank model. This will significantly reduce the waiting time for hot water delivery. As each unit is dedicated to a single location, they will provide hot water instantly and continuously.
Water temperature can be adjusted on the spot, providing the unit is installed where it provides easy access.
When installed as recommended, point of use water heaters can actually save energy costs. This includes installing them close to showers, washing machines and at the sink in the kitchen. As mentioned before, the idea is to shorten the distance between the delivery point and the hot water source as much as possible.
Disadvantages
Point of use water heaters should not be used as a backup system for geothermal heat pumps or solar heating systems, as they won't be able to meet the demand required.
An electric point of use heater is not practical for locations with a high demand for hot water.
Features
Higher end point of use water heaters often come complete with various components that have been designed to extend the heater's life, increase its efficiency and performance, save energy costs, and control the system automatically.
Heaters are usually fitted with one or more screw-in style heating elements with a power range between 1.5 and 3 kW depending on the model. These transfer the heat efficiently and directly to the surrounding water.
Most storage point of use heaters use a metal tank, but some models use a glass tank. Glass tanks have the advantage that they don't corrode.
120 V models are normally supplied with an electrical cord that can be plugged into any standard outlet. While 240 V models include junction boxes for easy installation.
The storage tank of tanked units are protected against corrosion by a ceramic or glass coating on the inside of the tank, together with an anode rod.
Conclusions
Point of use water heaters are suitable for applications in businesses and homes where a small amount of hot water is needed. Or where there is not enough space available to install a traditional cylinder shape tank type water heater.
As the units are typically installed close to the point of use and water is only heated when needed, hot water is delivered fast.
This results in space, energy, water and time savings, fast and easy installation, and increased comfort.
The small tank style is my preferred choice for a sink, but the tankless style is better for a shower.
Compare all 3 sizes of these – Click Here Now
Want help installing a water heater? Click Here
Summary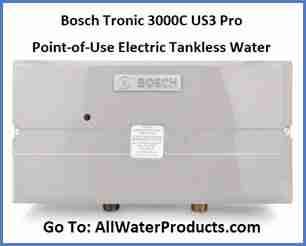 Article Name
Tank and Tankless Point Of Use Water Heater Buying Guide
Description
Why do I prefer a tank style point of use water heater for a sink over the tankless style? Which type is best for you? My new house will have both types of POU water heaters.
Author
Publisher Name
Publisher Logo