My water heater is 20 years old. The warranty was for 6 years. So, I'm on borrowed time. That tank could burst any time now – flooding the basement. So, I'm considering a Marathon electric water heater purchase.
Honestly, they don't make water heaters like mine anymore. I've read plenty of reviews about all brands of water heaters. There are many complaints about water heaters failing just after the warranty expired. So, maybe paying a bit more for a lifetime warranty is a good idea.
Best Choice For Most Homes –
Marathon Electric Water Heater Review
Imagine trouble-free hot water in abundance throughout your whole home. You want it to stay that way – right? Well, let's face it – changing your hot water tank is probably not high on your list of favorite home renovation projects. However, sometimes it's absolutely necessary.
Older tanks wear out and lose their efficiency. Some of them start to leak, causing a major headache. For other people, it's the smelly water that they get from an aging hot water tank.
In any case, there's a likely solution to the problem. It's a marathon electric water heater by Rheem and it's available in a 30, 40, or 50 gallon size. By the way, the 50 gallon size model is perfect for most mid-size homes and seems to be the most popular, so we'll focus our review on this particular model.
Unique In Several Ways – Including A Strong Warranty
What you'll find is a Marathon electric water heater is different in a few key areas. Firstly, it's constructed entirely out of fiberglass and durable plastic. Brass fittings, including the pressure release valve, are quality-made components.
Of particular interest is that these water heaters have a domed shape on the bottom for easy drainage and sediment removal. It's also relatively lightweight and therefore easier to install. And because there's no metal anode, the marathon electric water heater is rust and corrosion resistant and it won't give the water a foul smell.
Another great feature is that marathon offers a lifetime warranty on the tank itself (as long as you remain the owner of your home), plus six years on other parts. The reason they can confidently warrantee the tank for a lifetime is due to the intelligent engineering applied.
This includes the seamless construction and the multi-layered fiberglass interior that's surrounded by 2 1/2 inches of foam insulation – followed by a durable plastic exterior. What makes the Marathon water heater a favorite is that the tank itself is rugged and capable.
A lifetime warranty means that you should never have to worry about your tank leaking. Having the tank itself leak is very rare for any one of these Marathon electric water heating tanks. And if it does happen – the warranty is there for you.
However, leaks can occur in other locations – particularly at the joints leading to or from the tank. For the best trouble-free experience, it's good idea to read all the instructions and have a professional plumber handle the job for you.
In A Hurry? Take A Look At These 12 Choices. Click Here
Insulation Keeps Water Hot
Thick polyurethane insulation helps keep the water inside the tank hot, which reduces energy consumption. You can shut it down and travel away from home for a few days – even a week – and come back, flip the switch to on and enjoy water that's already as hot as you need. Standby heat loss is minimized and limited to about 5°F over a 24-hour period.
But several buyers report being away for longer periods of time and not needing to wait for hot water to flow upon their return. According to the manufacturer, energy efficiency of these models ranges somewhere between 0.92 and 0.94 UEF (Uniform Energy Factor) – making it one of the more efficient and less costly to operate water heaters.
Something else product designers at Rheem incorporated into the design is a recessed drain valve. It's located on the bowl-shaped bottom of the tank and is tucked away so it's protected and out of the way of any brooms, mops, or vacuum cleaners that could accidentally knick the drain valve on most standard tanks. With a Marathon electric water heater, you never have to worry about hitting the value and springing a leak.
Check How Much Space You Have and Choose Accordingly
Before buying any water heater, it's important to check and double-check where you want to actually locate your water heater. If it's a replacement, you'll likely want to locate it in the same place your existing tank sits.
Also, these things are bulky items and can be awkward to move about. They are quite a bulky size and therefore costly to return if you have to ship it back. So it's best to know with certainty that the version you settle on will easily fit into your designated space.
Rheem's 50 inch model of the Marathon electric water heater measures 23.5 inches in depth by 23.5 inches in width by 66.75 inches high. That's a similar size to most competing 50 gallon tanks, so the size is unlikely to be an advantage or disadvantage.
It's perfect for small to mid-size homes. This large tank (the 50-incher) is a good size to supply hot water throughout the home, for families of up to five to six people, assuming you will want to use multiple taps (to shower, do the laundry, and wash hands) at any given time..
It's a durable tank of a good size. Since it is virtually leakproof it's an excellent option for peace of mind hot-water on demand.
If you don't quite need the fifty gallon tank, the 40 gallon capacity Marathon electric water heater is slightly smaller than the 50 gallon model.
It features the same design elements and functions, plus the lifetime warranty on the tank too.
It's just a slightly smaller tank size and therefore, costs less. In the case of the 40-gallon version, it measures 21.75 inches deep by 21.75 inches wide by 65.5 inches high.
Need less hot water? This one may be the best solution for singles or couples – anywhere you have less demand for hot water.
The Marathon 30 gallon water heater is significantly lower in height compared to the 40 gallon version, but only slightly smaller in diameter. This one measures by 21.63 inches deep by 21.63 inches wide by 49.5 inches high.
All three sizes come with brass fittings as well as a pressure relief valve that provides added protection. It also meets or exceeds all NAECA requirements.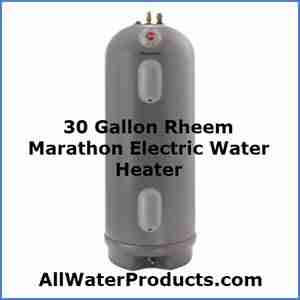 Just Right For 1 Or 2 People – Click Here
These water heaters manufactured by Rheem all have a 240 Volt direct wire connection. In fact the only Marathon water heaters that can be plugged into an outlet are small point-of-use water heaters. Anything with a larger capacity usually needs to be hard-wired.
So it's important to have it installed by a recommended professional – preferably one of the many professional plumbers who love Marathon electric water heaters and have installed dozens – or even hundreds – before.
What About Smelly Water Situations?
One of the biggest problems with most traditional hot water tanks is that they have metal components inside and common among these is a metal anode rod. But when you have a high mineral content in the water flowing into your home, this anode rod can break down and the result is that you get water with a terrible odor.
So what Rheem did was eliminate the need for a metal anode rod and therefore eliminate the smell caused by corroding rods sitting in mineral-rich water which. This can be a huge problem when your water is sourced from a well or lake, or from any other natural body of water.
If you have a hard water problem, it is important use a water softener before the water gets to the hot water tank. In general, the better the quality of the water coming into any hot water tank, the better it is for the system and the longer it will likely last.
For Inside Installations Only
These units are designed to be installed indoors. But "indoors" can mean any enclosed structure outside of your home, as long as it's protected from the weather outside. So if space is an issue, you could have your local plumber locate your Marathon electric water heater in the garage or shed.
Even though there's plenty of plastic contained in the outer shell of these water heaters, there is no trace of BPA in the plastic. So it's safe for everyone.
Plenty of Benefits From The Marathon Electric Water Heater
The primary benefits offered by Marathon electric water heaters include the lifetime warranty, highly-efficient operation and the relatively easy installation. They're also a durable water heater and when installed correctly and properly maintained, should provide years of problem-free use.
Most electric hot water tanks on the market are made out of steel and coated with porcelain enamel. The majority of them also deploy an anode rod to protect that porcelain enamel from dissolving away. So, it's this specific component that often is a big part of the problem as it continually corrodes away by design.
Marathon water heaters avoid this problem by eliminating the need for the anode rod. And they continue to function flawlessly without it.
Energy Efficient Hot Water
These tanks feature 2.5 inches of insulation between the fiberglass interior and the hard plastic exterior. By the way, it has an insulating value of R20 – which is notable and what helps keep any water in the tank ready to go.
Rheem also provides 4 foot of pipe insulation with every Marathon electric water heater they ship. Combined these two forms of insulation provides greater energy efficiency and reduced energy costs.
As for build quality, these marathon hot water tanks are built with a rugged molded plastic exterior. Inside are multiple layers of wound fiberglass to increase the durability and withstand extreme hot water temperatures over the long haul.
The dip tube is a unique design that gets the incoming water moving around in the tank. Which significantly lowers the amount of sediment that tends to collect in the bottom of the tank. But when those sediment deposits do accumulate, it's an easy process to remove them.
It's Slightly More Expensive
Sure, these marathon hot water heaters are a little more expensive. But they do provide numerous features unavailable on competing models, including the noncorrosive tank, lifetime warranty, lack of an anode rod, as well as relatively easy draining with less maintenance plus better energy efficiency.
All in all, what you should look at isn't so much the cost (though that IS important) but the value you get from it in the long run.
A Reliable Whole Home System
Since the 50 gallon large capacity tank permits a multitude of simultaneous hot water usage – it's the one we recommend as a first choice. If for example, you envision doing the laundry and running the dishwasher, while at the same time, someone wishes to take a shower, you're fine.
You'll never run out of hot water and if you're currently using a natural gas hot water tank, you'll probably save anywhere from $20-$70 a month on your utility bill.
Before each of these water heaters are shipped, they are preset at the factory to 120°F. Once the water in the tank reaches this temperature, the unit shuts down automatically and holds the water at a close temperature very well.
You can change the default setting, but it's not very convenient to do so because you'll need to remove the cover and some of the insulation just to access the control panel. But 120°F is plenty hot for virtually any in-home purpose.
What About Those Negative Reviews?
There's no shortage of negative reviews mentioning leaking valves on the tank. This could be a problem caused by an incorrect installation, or it could be the part itself.
But the more likely situation is that the water pressure from the municipal water supply fluctuates and the municipality has likely installed check valves in their pipes.
This is done to prevent contamination from being drawn back into the city waterlines from homes, when the water pressure drops from the city's water lines.
Depressurization of the city waterlines can happen from a water leak or regular maintenance. When depressurization happens in the city waterlines, water can be sucked out of the house. Which could pull contaminates into the city's waterlines.
So, while those check valves solve one problem, they created a new problem. When the water volume expands from heating, it increases pressure in the lines in the home. The water can no longer be forced back into the city lines, which can cause the pressure release valve to release (as it is designed to do).
But older valves need to be checked regularly to make sure that they are active and not seized up. If this pressure valve seizes up, that excess pressure can cause seals on the pipes at the tank location to leak. Ultimately, the solution is to also install an expansion tank to relieve any pressure. In many areas, an expansion tank is now required by code.
Pros
large capacity means that hot water lasts even with back-to-back showers
Recommended by professional plumbers who have installed hundreds of Marathon tanks over the years
Not too heavy, and easy to maneuver into the basement
Plenty of insulation keeps the water hot inside and the plastic exterior is durable too
Quality build that should outlast cheaper models
Wiring and tubing connections are readily accessible
2 1/2 inches of insulation is effective in keeping water hot
Aesthetically pleasing design
Made from plastic and fiberglass so the tank won't rust
It's an excellent option for anyone with hard water
With no anode rod inside there's no fear of creating a stinking water situation
Easy to install (compared to some other tanks)
Maintenance is minimal
Heats up fairly fast (turn it on and have hot water less than 40 minutes)
Silent operation
Lifetime warranty on the tank
Works as promised
Durable long-lasting hot water tank
It's a reliable water heater
Heats water efficiently and cost-effectively
Cons
Some users report not seeing much of a difference in their energy costs
The vacuum relief valve is difficult to install
If you make a warranty claim and get a replacement water tank, you are responsible for covering any increase in the cost from the tank that replaces your original (even when you purchased years earlier)
It's initial cost is expensive compared to lesser quality water heaters
Customer service has front line agents who take messages and relay those messages to technical staff and this can cause a mix-up in the message itself
The Verdict On The Marathon Electric Water Heater
By and large, users seem quite satisfied with the Marathon electric water heater. They have minimal problems if any, and no smell in the water and very little debris collecting in the tank.
Many users report never running out of hot water with this hot water tank. And it's often a brand that is recommended by professional plumbers. That's due primarily to their overwhelmingly positive experience in installing Marathon electric water heaters in customer's homes.
Of course, your mileage may vary. And your individual experience may be more dependent on the quality of the water that is fed into the tank than anything else. This of course assumes that the tank is professionally installed and everything is set up as it should be. If you follow directions, chances are you'll have a positive experience too.