(Last Updated On: November 17, 2023)
When I build my next house I will use a mini water heater, like the 4 gallon Eemax water heater for the bathroom sink. I will have a large sized tankless water heater to provide the water for my shower. That will be the least expensive and provide the best hot water experience.
That's because the Eemax water heater only requires normal house wiring. Whereas, the large sized tankless water heater will require larger, more expensive wiring.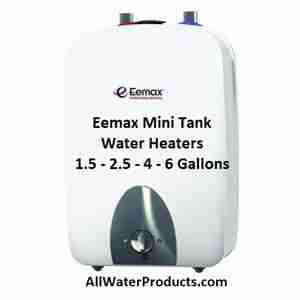 To Compare all of the Eemax water heaters. Click Here
Eemax Water Heater: 4 Mini Tank Sizes
Eemax offers a quality line of mini tank, electric point-of-use water heaters. There are four in their lineup that we think you should know about and all are designed to operate in the same way.
The main difference between the 4 models from Eemax is their water heating capacity – which range from the smallest at 1.5 gallons up to the 6 gallon model.
In addition to those sizes, Eemax also offers a 2.5 gallon and 4 gallon model.  All four sizes of mini tank water heaters operate on a 120 Volt circuit. And all but the 6 gallon water heater can be plugged directly into a standard dedicated household outlet.
So if you already have an unused outlet nearby, you're in business as far as powering this thing goes. All you have to do is connect the plumbing correctly and you're good to go.
But with the larger tank (the 6 gallon version of the Eemax) more work is required at the installation stage because this one requires a direct wire connection. We recommend having a capable electrician complete this task for maximum safety.
Compact and Lightweight
These mini tank water heaters from Eemax are relatively light and compact. They're not as small as some, but are easily manageable in any size.
All versions come complete with mounting hardware to fasten them to a wall. But you can also stand them up on their built-in legs and install then inside the base of a cabinet, on a fixed (and solid) shelf, or right on the floor.
Get Hot Water Fast – Wherever You Need It
You can use these mini tank water heaters anywhere in which small amounts of hot water are needed. So they are perfect for a second or third bathroom, kitchen sink, or even in the garage, so you can wash up with hot water after getting dirty or greasy.
While these are some of the more common uses of the Eemax water heater, these powerful devices are also used in a large variety of settings including homes of all sizes, RVs, cottages, mobile homes, trailers and boats.
This mini water heater is even used in commercial settings such as stores, offices, restaurants, hotels, factories, and service stations.
In most cases, these point-of-use hot water heaters are designed to be complementary hot water boosters to a larger, centralized hot water system. But they can also operate independently too.
Where The Real Value In An Eemax Water Heater Lies
You get hot water almost immediately – instead of waiting up to a couple of minutes or more – for the hot water to travel from a central hot water tank to the faucet.
This is a very real problem for anyone living in a dwelling in which the central water supply is located at one end of the house, while the tap they want hot water to flow from is at the opposite end.
Another advantage of this mini water heater by Eemax is that it eliminates the need for expensive re-circulating pumps and lines.
Eemax Water Heater: Solid Build Quality
These mini tanks are almost built like tanks – with corrosion and impact resistance built-in. The outer tank is welded steel and the interior is glass lined to help ensure a longer life. Quality, thick insulation keeps that water hot and contributes to the high-efficiency of the Eemax mini tank hot water system.
All four of these recommended models also come with an on/off switch – which serves a couple different purposes. Number 1: It makes servicing or maintenance easy because you can power down with the flip of a switch.
Number 2: It also reduces the chance of turning the unit on without having water in it. That's a definite no-no because it could damage the element and shorten its lifespan.
It's also nice to be able to turn the water tank off completely without uninstalling the whole unit. This is one factor that makes the Eemax a top choice for the cottage, since you're only going to need hot water while you're there.
Quick Comfort – Without Waiting and Wasting
All of these Eemax water heaters are capable of maintaining a water temperature anywhere from 50 to 140°F.
So you get quick hot water – just the way you like it – without the wait.
It also means you won't be wasting all that cold water that typically just goes down the drain unused as one awaits the flow of hot water.
4 Gallon EMT4 Mini Tank Water Heater 120V Take A Closer Look – Click Here
Choose The Largest One That Fits
What we recommend is that you buy the largest model of mini water heater that will fit in your chosen space. It's important to check and double-check the available size, since numerous buyers thought a larger unit would fit in a relatively small space, only to be disappointed when it arrived.
There are two things you need to consider when thinking about the size of space you'll need to house one of these Eemax mini tank water heaters.
There is both the size of the unit itself to factor in, plus you also need to allow eight to 10 inches above the unit, in order to connect the plumbing. The best place to install an Eemax unit is inside the cabinet and close to the sink.
You may need to cut out a section of a shelf (if there is one in the way) in order to accommodate the water heater. But it's always helpful to know what you're going to be dealing with in advance, so you can better prepare for the work ahead.
Eemax Water Heater Sizes
Let's look at the actual physical sizes of these mini water heaters.
Starting with the 1.5 gallon model (EMT 1) – it measures 15.39" high by 9.71″ wide by 9.63″ deep.
The 2.5 gallon model (EMT 2.5) comes in at 17.01″ high by 10.91″ wide by 10.94″ deep.
And the 4 gallon version (EMT 4) measures 18.24″ high by 12.28″ wide by 11.65″ deep.
Finally, the large one, the 6 gallon mini unit (EMT 6) is 20.83 inches high by 13.86″ wide by 14.19″ deep. As you might expect, each successive size gets a little heavier too.
The unit weight (while empty) of each is as follows:  
EMT 1 = 11.68 pounds
EMT 2.5 = 15.48 pounds
EMT 4 = 19.29 pounds
EMT 6 = 24.91 pounds
These mini tanks are designed to provide hot water at the point of use to rinse off the dishes, or to wash your hands.
In most cases, these compact mini water heaters fit nicely inside a vanity in the bathroom, or inside the kitchen cabinets, underneath the sink. This way, all the plumbing and electrical is mostly hidden behind doors. But sometimes that's just not possible – which is okay too.
Remember, you're going to need at least eight to nine inches above the unit. That's where you make your plumbing connections and if it's too crowded – you're going to find it frustrating as heck. So if you're working inside a cabinet, be sure not to install this too close to the top – or you'll have to move it and start all over again.
Want it installed right the first time? Arrange professional installation.
Flexibility To Suit
The built-in adjustable thermostat automatically controls the water temperature. You can set that temperature to a comfort level that suits you.
Turning it to the right will increase the temperature, while turning it to the left will decrease it. When the red indicator light is on, it means that the water is in the process of being heated. When it's off – the hot water is ready to flow straight from the tap.
You'll find the temperature control knob in the best possible location – right on the front of the Eemax tank. It's large enough to see and easily access, so you can adjust it whenever you want.
You have a couple of choices when it comes to installing an Eemax mini water heater. You can mount the Eemax mini water heater to the wall, or you can install it on a stable shelf. Another option is to simply place it on the floor or base of a cabinet and make your water line connections from there. Any of these locations can work.
But one thing you need to keep in mind is how heavy the tank gets once filled with water. So if you're mounting on the wall you want to make sure that it is installed securely to the wall studs.
The Weight of Water
When filled with water, these eco-smart MINI tank water heaters are considerably heavier. Fully-loaded, the smallest one weighs 25 pounds. The next size up – the EMT 2.5 gallon weighs 37 pounds, followed by the eco-MINI four gallon tank at 52 pounds. Finally the EMT 6 gallon Eemax water heater weighs a whopping 80 pounds.
When you're not using one of these water heaters for a period of two weeks or longer, you can conserve energy by reducing the water temperature.
The Eemax water heater also comes with freeze protection. This can be useful when you're not using your system for an extended period of time and the risk of freezing may occur. Simply disconnect the power and drain the mini water heater completely. That's all there is to it. That way it should be ready to go whenever you need it again.
What About The Warranty?
The warranty offered by Eemax gives you five years of leak-proof operations, which is reassuring. And the water heater itself is covered by a warranty that lasts for a period of two years.
A Closer Look At Each Model
When you want hot water at the tap – but don't need a lot of it, the EMT 1 can fit the bill perfectly.
Since it's the smallest of the four models, it's easier to fit inside a tight space than any of the others. It can save you the long run of hot water – from a traditional hot water tank or central tankless system to the tap of choice.
This mini hot water heater can be used both as a point-of-use water heater on its own and as a booster for a whole home hot water system. But due to its compact size, we believe you'll find it more useful as a hot water booster.
Still waiting for the hot water to arrive?
Pros
Give you instant hot water upstairs at the kitchen sink
Has a nice clean and modern look to it
Temperature control is readily accessible (should the water be too hot coming out of the tap, you can easily dial it down)
You can use this both as a booster and standalone unit
You don't have to wait for hot water
You'll no longer waste cold water (while waiting endlessly for hot water to flow)
Does not noticeably increase your electric bill
It's a well-built quality piece of hardware
Installation is relatively easy for anyone with a little plumbing and electrical background
Instructions are easy to follow (most unusual)
Can be mounted on the wall, shelf, or inside a cabinet
Provides enough hot water to wash your hands
Cons
Even this one (the smallest unit) may be too bulky for some desired applications
Doesn't come with all the hardware you need to connect (so you have to go shopping)
It's quite large considering how little hot water you get from it
Does not have a drainage tap on the bottom of the tank
This one's a significant step up from the basic 1.5 gallon unit – with almost double the capacity.
How long will it take you to install this Eemax water heater? Well that all depends on your chosen location and what additional hardware you need to purchase to connect it properly. Another factor is your experience with electrical and plumbing jobs.
Previous buyers report taking anywhere from about 15 minutes to a few hours to get their hot water mini tanks set up and functioning fully. So the average would be somewhere around 45 minutes to about an hour and 15 minutes.
Stop wasting cold water waiting for the hot water to arrive –
Once it's set up, it's basically hands-off, with the exception of regular maintenance that should be performed.
Pros
Prevents you from wasting gallons of cold water while awaiting hot water to pour from a tap
Saves you time (it spares you the agonizing wait since you get hot water almost instantly)
It's energy-efficient (thanks to the insulation around the tank, the water stays at a certain temperature without having to cycle back on and burn more energy)
Relatively easy to hook up
Good size for producing hot water to wash the dishes or to clean up (there's plenty of capacity for instant hot water for most applications until your main hot water supply kicks in)
Detailed instruction manual
Works great in a workshop sink area
Not too heavy to lift when installing
Ideal for use in a cabana kitchen or basement bar
When the system has been shut down and then restarted it takes about five minutes to get hot water
Cons
Requires a separate electrical outlet
You need to purchase additional pieces of hardware in order to install it
It's a little big (even though it's one of the smaller models, it's still sizable and therefore somewhat difficult to find an appropriate place in which to install it)
Drawings in manual could be larger
No recommended tool or hardware list provided
When used at a point-of-use that's far away from the main water heater – requiring more than a couple of minutes to send hot water from the tank – it may not be adequate
Securing the overflow valve is difficult since it must be tight to prevent any leaks
Eemax's 4 gallon model is the second largest in the line – and it's a popular option because of its size.
But this size can also be a challenge when you go to go to install it. It's a fair size on its own. But you also need 8-9 inches of minimal space at the top in order to make the connections.
With the larger two models (EMT 4 and EMT 6) you need to be extra cautious if you're mounting it to the wall. Due to the size and weight, you'll want to be sure you have it really secured in place.
Installation takes anywhere from about 15 minutes to a couple of hours – depending on what needs to be done/ modified in your specific situation. And of course, your level of experience with plumbing, and electrical work (if no outlet is present) is a significant factor too.
Get this popular size and save money too –
Pros
A solid option for point-of-use water heater that gets used fairly regularly
Produces abundant hot water without delay
No more wasted water down the drain waiting for it to heat up
If you have even a little plumbing experience, installation can be fairly quick and hassle-free
Properly installed, this water heater will pay for itself quickly
This one supplies fast hot water that your hot water tank cannot, therefore it can help you get more years out of an aging system
Aesthetically, its contemporary design is pleasing to look at
Not an energy hog (you'll barely even notice it)
With this mini water heater, you're able to run the dishwasher and shower simultaneously
It's nice that you can just plug it in since this model does not require a hard-wired connection
Instructions provided are easy to understand and complete (most unusual)
Good hot water capacity provided despite its relatively small size
Cons
Somewhat heavy and bulky – so it can be difficult to manage when installing in a tight location
You may have to modify the interior of the cabinet in order to accommodate its size
In addition to what you spent on the water heater, it's a good idea to plan on spending an extra $150-$200 in connection and retrofitting costs (you may or may not need this)
If you don't already have a dedicated circuit to run this unit, you'll need to install one
If your water demands are high – this compact water heater might not be able to keep up
This one is the largest of the Eemax mini water heaters and therefore requires the most space to hook up.
If you're mounting this one to a wall, you definitely want to make sure that you have it secured to a couple of wall studs. Don't take a chance on anything less.
This six gallon mini water heater works just as well as the smaller models. It heats up your water quickly so you don't have to wait.
And if you've got the space where you plan to install, then this is the model we recommend the most. That's simply because it will give you the highest volume of instant hot water from a mini water heater.
If you have the space needed for this to fit into, then this is the best choice
This one is ideal for motor-homes, mobile homes, cottages – and any in-house application. It's also the best miniature water heater for commercial applications like store restrooms, for example.
Some people choose to use this one as their only source of hot water and it works fine. This model can provide enough hot water to shower and do the dishes on a daily basis. So it may meet your needs all on its own.
Pros
Well-designed and quality-made product
Can be used as a sole-source hot water tank (best in warm climates)
Saves you the wait and the wasted water
Easy to install if you have an electrical outlet nearby already
Plumbing is as easy on this model as it is on the EMT – 1
This larger unit will probably give you all the hot water you need for multiple quick cleanups
Use this as a booster and ultimately you'll use less water and won't have to wait for hot water
Cons
It's may be larger than you think – so double check your space
It's hardwired – so you need an electrician to safely do the job
Plan out the wiring part and plumbing before you purchase (when you know what's in store in advance, it makes for a smoother installation)
Our Verdict On The Eemax Water Heater
The Eemax water heater is a proven performer and a brand we confidently recommend to you. With 4 different size models available, we're sure there's at least one that's perfect for your desired application.
The Eemax water heater is a proven performer and a brand we confidently recommend to you. With 4 different size models available, we're sure there's at least one that's perfect for your desired application.
Our recommendation is to buy the largest one of the four Eemax units that will fit into your space. The increase in cost is minimal with each model. So when you upgrade to a larger size, it will only cost a few dollars more. And the more hot water you can get flowing, the happier you'll be.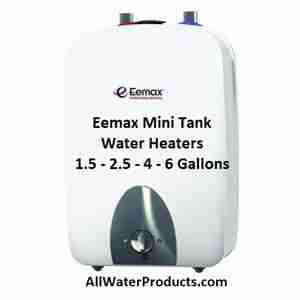 Choose the best mini tank water heater for your house