If you're looking for reliability, portability and affordability in an outdoor tankless water heater that doesn't take up too much space – the Eccotemp L10 is well worth checking out in detail.
Imagine being able to enjoy endless hot showers on demand and without waiting – in virtually any location – even when you're miles away from civilization or an electrical source.
The Eccotemp L10 Is Battery Power Started – Propane Fueled
Built-in internal sensors detect incoming water (as the tap is turned on) and it immediately starts the burner to heat the water. Battery power starts the device and propane is used to heat your water rapidly. As long as you have propane and a water source, you'll have a continuous flow of hot water – whenever the need occurs.
The Eccotemp L10 portable outdoor tankless water heater captures an impressive 4.0 out of 5 possible stars – with about 60 actual buyers reporting. Though the numbers are relatively small, this respectable rating indicates a high degree of approval and satisfaction among early buyers – and that's always a good thing.
Installs Outdoors
This specific tankless water heater is designed to be installed outdoors only, in any location where you need hot running water. But you can feed that hot water anywhere you like – outdoors or indoors.
That makes it perfect for setting up near your pool, or on the side of the garage to clean your vehicles. It also makes an excellent choice for greenhouses, bathing horses (or other pets), or to connect to your RV, tiny home, or trailer. Suitable applications for the Eccotemp L10 are virtually endless.
The beauty of this model is that since it's an outdoor tankless water heater – it does not need to be vented.
Abundant Hot Water
Wherever you need a steady flow of hot water, the Eccotemp L10 portable outdoor tankless water heater may be the ideal solution you've been looking for. It's similar to the Eccotemp L5 portable outdoor tankless water heater but is significantly larger in capacity. The L10 delivers 2.6 gallons per minute as opposed to the L5 which outputs 1.5 gallons per minute.
It's the larger size of the Eccotemp L10 that makes it ideal when your needs go beyond the basics.
This one ensures a larger flow volume of hot water. So, it's perfect for multiple showers.
Or to wash dishes while someone else gives the family Saint Bernard a much-needed shampoo and rinse at the same time.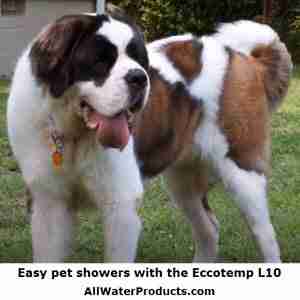 Two Versions Available
The Eccotemp L10 portable outdoor water heater is primarily designed to provide comfortably hot showers anywhere and at anytime.
It comes in two different versions – the Eccotemp L10 portable outdoor tankless water heater with shower set actually provides everything you need to set up a portable hot shower – including the hose and shower head.
The other version comes with the addition of a pump and strainer as well. Which is called the "bundle".
If you plan on tapping into any natural source of water – lake, stream, river, etc. – it's a good idea to opt for the pump and strainer version. This will help draw water from the source and filter it before it gets to the water heater. As a result you'll get greater performance and longevity from your water heater.
Eccotemp L10 Product Specifications
Dispenses 2.6 gallons of hot water per minute
Electronic ignition powered by 2D cell batteries
20 to 80 psi water pressure required
Fueled by liquid propane (fits standard 20 pound or larger tank with same fittings)
Comes with 12 month manufacturer's warranty
Built In Rain Cap
As you might expect, the Eccotemp L10 comes complete with a rain cap to help protect it from the rain. So, it can continue to function as intended and without interruptions in inclement weather. Since it's made to be installed outdoors only – it's perfect for remote camping, or to install on a backyard workshop, or cabin in the woods.
Keep in mind that this unit is not meant as a permanent water heating solution in all kinds of weather. That's just not the case. You cannot leave it outdoors in climates where temperatures can dip below freezing.
Essentially, the Eccotemp L10 is a temporary solution that can be made more permanent if you happen to live in an area where it's always warm. Anywhere else, you should drain it completely and store it safely indoors whenever it starts to cool down outside.
Overall Dimensions For the Eccotemp L10 Are As Follows:
Depth 6.5 inches
Height 28 inches
Width 17 inches
And it weighs in at 27 pounds.
A Water Heater You Can Take With You
You can take the L10 with you and enjoy hot showers wherever you go. Keep in mind that at 27 pounds, it's heavier than some of the smaller models like the Eccotemp L5 – which only weighs14 pounds.
So, if you have to haul it on foot to a remote cabin or campsite, it can be a little more challenging than carrying a lighter unit. But it does give you significantly more hot water flow when you need it.
It's still relatively easy to transport – just beware of the added cargo as you plan your trip. Since the Eccotemp L10 is made with standardized fittings and feeds – you can connect it easily to most parts and accessories.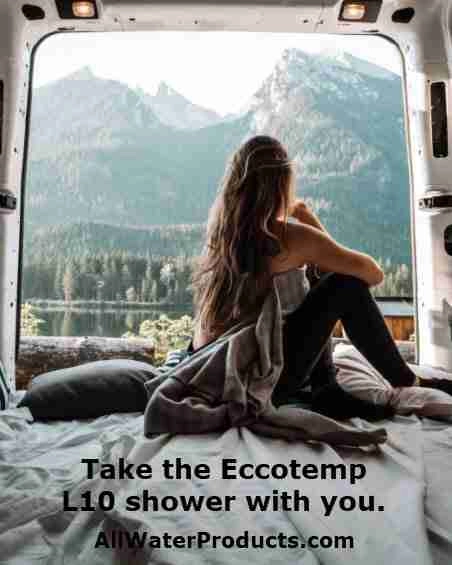 Electrically, the Eccotemp L10 is powered by 2 "D cell" batteries. This makes it an ideal option as a water heater where electricity isn't readily available. You get the benefit of electronic ignition (and instant starting). Plus, hot water on the go wherever you venture in the great outdoors.
Use With A Standard Propane Tank
This portable tankless water heater runs on a standard 20 pound liquid propane tank. The same kind of tank that powers most backyard BBQ's these days. It's easy to connect and you'll always have hot water – even in the most remote locations. That is as long as you have a nearby supply of water and propane in the tank.
Also, the Eccotemp L10 deploys all standard NPT fittings – making it compatible with any typical plumbing connection or fixture.
Since the L10 is a portable unit and most installations are temporary in nature, you can readily shut it down and drain it and then transport it to your next location.
Thanks to the plug located at the bottom, it's easy to drain the system completely and put it away in storage, or pack it up to take with you. That's what makes it a perfect option for campers. With such a compact design, it's easy to store the water heater when not in use.
Hot Water in Just Seconds – For Less
Propane works efficiently at heating the water, so there's no waiting around for a tank load of hot water. As an added bonus, you get hot water at a rate that can actually save you money when compared to a traditional tank type water heater.
And since the Eccotemp L10 portable tankless water heater doesn't use a water tank at all, it does not take up a lot of space.
It's a perfect solution for any summer cottage, hunting camp, cabin in the mountains, or any seasonal riverside home. It's also useful for farms, garages, workshops and detached art studios.
And for groups of campers who like to explore in the great outdoors and venture off the beaten path, the Eccotemp L10 is stellar choice. Having hot running water on demand – wherever you happen to be – just makes life a whole lot better.
You Are In Control
You manually operate the controls and adjust the water temperature to suit your needs and preference. Also, you have total control of the water pressure and can alter it anywhere from 20 to 80 PSI.
You need to ensure both adequate water flow and water pressure. That's because if either dips below the required minimum, the system will shut down automatically.
It can produce hot water with water pressure as low as 20 PSI. However, you'll likely have better results consistently if you keep the pressure at 30 – 35 PSI. Minimum water flow required is .75 gallons per minute.
Additionally, as a safety feature, there's an automatic shut off after 20 minutes of running. It's designed that way to protect the unit from overheating.
Abundant Hot Water Is Yours
The Eccotemp L10 portable tankless water heater delivers hot water at a rate of up to 2.6 gallons per minute. So, you can use two taps at once – without any loss in hot water flow. And the Eccotemp L10 can reach temperatures anywhere from 80 to 145° F. Remember to simply adjust the water flow and gas flow to reach the temperature you desire.
What you're getting with the Eccotemp L10 portable outdoor tankless water heater with shower set, is essentially a solution that provides you with invigorating hot showers in any location.
So Many Ways To Use The Eccotemp L10 Water Heater Shower
You can attach any garden hose to the outflow water feed to get the benefit of hot water wherever you are.
It's great to have near a pool, barn, potting shed, or other detached cabin on your property. It's also something you could take with you to the local swimming hole hidden in the woods.
Another way this device would make a priceless acquisition is while building or renovating your home or cottage.
For example, after purchasing a vacant lot on undeveloped land, you could park a trailer there and connect your Eccotemp L10 water heater.  That way, you could enjoy a hot shower every day as you work on building or fixing up your little piece of paradise.
Get one for the cabin. Click Here
It's an excellent tool for providing hot water on demand to cabins, small homes and park model trailers too. It's also perfect for washing your car, boat, truck, or trailer too.
You can connect it to your pressure washer and get the additional cleaning benefit of hot, pressurized water. Which works well when cleaning siding or stripping down a backyard deck.
Also, do you like to indulge in a revitalizing hot shower while camping- even in the remote wilderness? well, you're in luck. You just can't beat the Eccotemp L10 for making regular hot showers a reality – anywhere.
Hot Water Off The Grid With The Eccotemp L10
Ideally, this portable water heater should be installed on the exterior of a dwelling or cabin or RV so that it is in a well ventilated area. And the L10 must only be mounted in an upright position. You could mount it to a fencepost, or even a large tree when out in the wild.
Another option is to rig a portable dolly specifically for your Eccotemp L10 water heater. Fit a piece of plywood along the inside back of the dolly. Mount the propane tank on the bottom, and then add the water heater to the top. This way, you could wheel it to any location with ease.
However you choose to set it up, be sure to read the provided instructions to ensure a safe installation.
Pros
Get water from two taps at once (this means you can wash dishes, clothing, or your hands at the same time as someone else is enjoying a hot shower)
Installation, set up and regular use is easy
Since this is a portable unit, it can be deployed in remote conditions without any infrastructure
Can be used with any garden hose
Several fittings and adapters are provided. So, chances are you can set it up without requiring anything else. Though you might want to bring along a wrench to snug up those connections.
Comes with a built-in safety shut off mechanism (goes off after 20 minutes) so it does not overheat
Provides up to 2.6 gallons per minute of water flow
Great option for camping to provide hot showers wherever you go
Heats water fast to provide hot water on demand
It's easy to adjust the temperature range
Water can heat to almost steaming temperatures (great for power cleaning)
Solid option for any area with no electrical supply
Comes with standard NPT fittings so it can be connected to most any plumbing fixture or system
Compatible with most 12 volt pumps
Works well with provided showerhead
Can readily be relocated (making it perfect for travel)
Energy-efficient hot water (which saves you money)
Supplies ample hot water within two seconds
Water never gets cold (as long as you have propane in your tank)
Reliably delivers hot water at a consistent temperature
Good value (it's a solid portable water heater for the money)
Works well just about anywhere (makes an excellent option for off the grid camping)
Cons
Requires water pressure between 20 and 80 psi
You may experience slight delays in water flow (although this can usually be corrected with adjusting the settings)
Burner does not always ignite if the water pressure drops below 30 PSI
Would be even better if it came with connections for Pex and copper water lines
The quality of the accessories is inferior to the quality of the unit itself
Fittings can leak if not properly connected
Showerhead sometimes sticks and can be difficult to turn on and off
This system may require that your water be pre-filtered if it is not of a pure enough quality
Our Verdict On The Eccotemp L10 Portable Outdoor Tankless Water Heater
The Eccotemp L10 portable outdoor tankless water heater is an ideal solution particularly when you're living off the grid or in areas that have limited or zero electricity to connect to. With its portability and reliability, there are countless ways to use this thing.
In fact, you'll be hard-pressed to find something as versatile as this water heater. It's a proven winner and one that we are confident to recommend to you.
Get This Now For The Next Time It's Needed – Click Here
Home Page of All Water Products