After running a snow thrower for a couple hours during a Minnesota snowstorm, I really appreciate taking a hot shower. You can rely on a Bradford White water heater to provide all the hot water you need, no matter where you live.
There are several water heater brands to choose from and I have heard the good and the bad about all of them.
How well does the Bradford White water heater brand perform? Lets talk about it…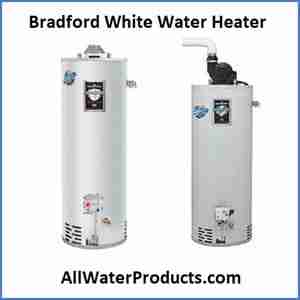 Enjoy the shower and bath with hot water from a Bradford White water heater – Click Here Now
Introducing The Bradford White Water Heater Company
Winter is not pleasant in colder climates and even the hardiest of us start shivering if we don't have clothes and appliances to keep us cozy and warm. Under these conditions, warm water is a luxury we often take for granted.
However, imagine for a moment the effort that would be required if we had to do even the most mundane, everyday tasks like the laundry, dishes, bathing, or showering without hot water.
I'm sure you're shivering just thinking about having to do those without hot water. That is why hot water heaters are such great devices.
Water heaters are an absolute must for our comfort during the colder seasons or ANY climate. This fact has led to many different manufacturers inventing a very wide variety of different types of hot water heaters. One of the oldest and most trusted manufacturers in this space is Bradford White.
We'll take a look at various Bradford White hot water heaters in this article to help you select the one that is the best suited for your unique requirements to increase the comfort of your home.
First and foremost, excellent customer service is what sets Bradford White apart from its competitors.
This American company does all its design, engineering, and manufacturing inside the U.S..
Bradford White is not only one of the water heater companies that has been around the longest, but is also rated among subcontractors as an excellent brand.
It provides products that are extremely high quality and uses durable technology, resulting in longevity.
If you're considering purchasing a Bradford White hot water heater, this guide will tell you everything you'll need to know.
The Long History of Bradford White Innovating Products
Bradford White was founded in 1881 and it is a manufacturer of water heating products that is employee-based. The group of companies, all American-owned, leads the U.S. in the manufacturing of combination heating, space heating, water heating and storage solutions for industrial, commercial, and residential applications.
The company's headquarter is in Ambler, Pennsylvania, while its manufacturing facility is located in Middleville, Michigan. Bradford White has been using American craftsmen to create high-quality products during the 135 years it has been established.
To this day, they still manufacture quality products, pausing only during the Second World War to build pressure vessels for the Maritime Commission.
Bradford White introduced a new water heater in 1951, an innovative unit known as the Vitraglas, with a glass-lined tank.
The company however only started to focus on manufacturing water heaters in 1959. At about the same time, they changed their name to The Pennsylvania-Bradford Appliance Corporation.
The company, Bradford White, as it is known today appeared in 1968 when the companies Pennsylvania-Bradford and White Products merged. The merger expanded the size of the new corporation, while at the same time creating a more dedicated drive towards innovation. This move paid off in 1985 when it invented its first power-vented water heater.
Employee Ownership and More Innovation
Throughout the 1990s, the employee-owned business carried on innovating, setting new standards in the industry, both for warranty duration and quality.
In 1993, the HydroJet system was introduced, followed in 1994 by Bradford White becoming an employee-owned company as we know it today.
In 1996, Bradford White once again transformed the water heating industry by increasing its warranties on tanks for residential models dramatically. The new warranty covered 6 years for storage tank heaters.
This is however not the only industry-first Bradford White has achieved.
40 Gallon Bradford White Electric Water Heater BWC RE340S6-1NCWW Click Here
Bradford White commissioned a comprehensive research and development laboratory for its products in 1996, placing them streets ahead of their competition in engineering and innovation.
Then Bradford White started winning awards for the dynamic technology they used by 1999, and the Consumer Report declared Bradford White's Optimizer water heater as a best consumer buy.
Bradford White in 2003 announced a new safety feature for their water heaters, while also releasing a new model, known as the PowerStor Series indirect water heaters. A year later, they released the EverHot series, thereby expanding into the market for tankless water heaters.
The ICON system, a gas control valve, was introduced between 2009 and 2010. This control valve delivered both more energy savings as well as protection for homeowners.
Bradford White expanded even more though a series of buy-outs, including Laars Heating Systems.
The firm opened a new LEED certified training facility in 2012. The Bradford White International Technical Excellence Center focuses on developing new appliances that are eco-friendly.
Bradford White currently has one of the best reputations in the industry for consumer satisfaction, innovation, and quality, and don't expect them to give that up any time soon.
They have integrated intelligent ICON systems into all their products and this definitely sets them apart from their competitors.
As a leading American brand, with all products designed and manufactured within the U.S., they pride themselves in providing the best possible consumer experience and are among the highest rated for consumer satisfaction by subcontractors.
Propane and Gas
As Bradford White is the driving force behind innovations for gas water heaters, it shouldn't come as a surprise that the company boasts a huge catalog of gas-powered water heaters, using either Propane or natural gas.
All models include patented technology and are backed by virtually the best warranty in the industry.
Bradford White's Customer Service
If you have any problems with your Bradford White heater, there is no need to worry. Their customer service is excellent and they provide email addresses, fax numbers as well as phone numbers for support.
Their support site also gives users access to many informative articles, data sheets and user manuals. Specific models also have their own guides and these provide all the information required to resolve any technical difficulties you may have, or help you in setting up and configuring your new unit.
Why Use Bradford White Water Heaters?
The Bradford White brand is synonymous with innovation. In the many years the company has been in business, they have introduced new safety features, systems, and designs to the world.
The heaters they manufacture have a long lifespan, and are durable and strong. This is a great option for bigger homes where the demand for hot water is high.
As Bradford White has become known as the leading inventor in gas water heater innovations, it is no surprise that they have a large range of gas-powered water heaters.
Their signature patented technology is included in each of their gas-powered models. Their products are also backed up with arguably the best warranties available in the water heating industry.
Bradford water heaters include a ton of unique features, with most units manufactured with a Vitraglas lining to provide extra durability. Plus, also featuring ICON, their intelligent gas control system.
All their gas-powered water heaters are also very energy efficient, with most models having a uniform energy factor of 0.54 or better. A big percentage of their models are also NAECA compliant and low NOx.
Choosing a Water Heater
There are a number of things you should keep in mind when you are looking at purchasing a water heater and have a selection of brands to choose from.
Energy Efficiency
The energy efficiency of a water heater can be determined in a number of different ways. If the Energy Star seal is displayed on the heater, it means that the heater exceeds regulatory standards. This is one indicator of high efficiency on a water heater.
An alternative is to look for the Energy Factor on the heater's label. This number is an indication of how well the heater converts energy to heat. If a heater has an EF rating of 0.83, it means it is 83% efficient and that 17% of the energy is uses is being lost.
Capacity
The capacity of a water heater determines its effectiveness in a household. Homes with a high demand for hot water usage at the same time need a water heater with a large capacity.
If the model you select is too small, you will run out of hot water and will have to wait for the water to heat up again before it becomes available.
However, if you choose a model that is too big for your real requirements, you will heat up more water than what you need. Thereby wasting energy, and money.
100 Gallon Bradford White D-100T-199-3N Electronic Ignition Gas Water Heater and Flue Damper. Click Here
To determine which capacity water heater you need, keep track of your daily hot water usage. Determine how much hot water you use in the busiest hour, e.g. multiple showers running while the dishwasher is on. The amount of hot water you use in that hour will probably be about the capacity water heater you need.
The Bradford White Advantage
Given the history and reputation of Bradford White described above, it should be clear that this brand is definitely one worth looking at when you're in the market for a new or replacement water heater.
The company consists of several different divisions, including Laars Heating Systems, Bradford White Canada, and Niles Steel Tank.
In the rest of this article, we'll look at more detail of their products to help you determine what's good and what isn't.
Durability
Durability is an important consideration if you want to make sure you get value for money. When comparing brands and models, look at the technologies used to help the products last longer.
Another good exercise is to find customer reviews to see how people have experienced their products and how long they lasted. Although excellent customer service is very important, this won't help much if the product generally only lasts for 5 years.
Costs
Comparing cost when looking at different brands can be very difficult. Before you can even do this, you should determine the capacity of the water heater you need, and then only compare models and brands of that size.
A bigger model will obviously be more expensive than a smaller one. However, you may not need the bigger one. Also, a bigger one will only waste energy heating water that you don't use.
The purchasing cost of a high capacity water heater with an Energy Star seal may be more than other similar models without the same efficiency. However, it will make a big difference to your running costs by lowering your energy bills.
Expensive models are not necessarily better. Choosing a higher price model may result in you buying capacity that you don't need. Or you may be paying for the aesthetics rather than functionality and efficiency.
Take all aspects of the cost into account when doing comparisons. Including the purchasing price, installation costs, running costs, and the cost of extended warranties.
The expected lifetime of the heater should also be a factor. That's because it would be better to pay 30% more for a model that would last for twice as long as its competitor.
Comparing Bradford White Hot Water Heaters to its Competitors
While preparing these Bradford White water heater reviews, I learned that they are not only the oldest manufacturer of hot water heaters, but also one of the most respected. They offer excellent value in terms of long life, efficiency, and safety. Below you will find some features that differentiate this brand's heaters from competing products.
Wide Range
Bradford White manufactures many varieties of water heaters with varying capacities you can select from.
They have units powered by gas and electric, as well as hybrid models. There are not many water heater manufacturers that give their consumers such a broad selection.
50 gallon 240V Electric Bradford White BWC RE350T6-1NCWW . This is the "tall" version. Take a look – Click Here
Safety
Irrespective of which type of model water heater you select, consumer safety is a major priority for Bradford White. Their Eco-Defender safety system is far ahead of anything their competition can bring to the table.
Hydrojet Engineering
The performance of a water heater can be degraded badly by dregs that settle at the tank's bottom. To solve this problem, the company designed their innovative Hydrojet engineering that gets rid of sediment in their systems. This ensures that they run efficiently and at peak performance.
Defender Safety System
These Bradford White water heater reviews would not be complete without discussing the unique Bradford White Defender system.
It can be very risky to operate a gas hot water heater. In the large metropolitan area I live in, I can remember several house explosions.
Most manufacturers focus their safety features solely on the internal workings of the heater. However, Bradford White has gone a step further with their Eco Defender Safety System. It will sense external threats and shut the water heater off before accidents can happen.
With the Bradford White defender water heater, the company not only protects their products from their internal operations, but will sense and eliminate external threats.
Take A Look At These Bradford White Water Heaters – Click Here Now
Bradford White's Dedication to Innovation
Since their inception, Bradford White has strived to be the best brand for both customer experience and innovation. This is what has turned the company into a favorite household hot water heater brand. There are three reasons why:
Enamel Tank Lining
Corrosion is the main enemy that attacks tanks to the point that they have to be relegated to the scrap heap. By eating away at the material, corrosion eventually results in the tank breaking or leaking. Bradford White strives to ensure they make high quality products with long lifespans.
With this goal in mind, they install their exclusive enamel tank lining called Vitraglas, into all their water heater's tanks. This enamel lining is applied to the inside of the tank where it forms a protective barrier between the metal tank and the corrosive components in hot water.
Vitraglas has been tested extensively in Bradford White's laboratory. It provides unrivaled protection of the tank when compared to linings used by their competitors. This high-quality tank lining increases the tank's durability and helps it last much longer.
Bradford White Defender System
All Bradford White's gas water heaters have incorporated their Defender System, a safety system that helps to prevent fires and explosions. The Bradford White Defender System has been engineered as a flame arrestor and uses their patented ScreenLok Technology.
The Bradford White defender water heater uses 18,000 tessellated louvers that increases the speed with which air is drawn into the heater.
If flammable vapors manage to get into the heater and burn, they create a so called vector-effect in the ignition chamber. Fast moving gases encounter the vector-effect, and this prevents flames from reversing through the flame arrestor's plate and out of the system.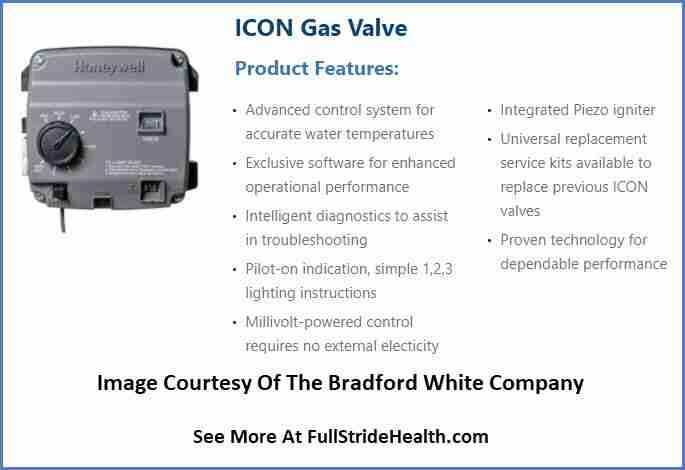 ICON System
The ICON System is exclusive to Bradford White. This gas control technology has been designed to allow users to control their hot water usage better. This system uses a microprocessor to provide Advanced Temperature Control to monitor and operate the burner. This feature helps users to achieve exact water temperature levels consistently to provide a very comfortable experience.
The system's Performance Software provides advanced temperature control mechanisms and improves First Hour Delivery ratings.
While the Intelligent Diagnostics assists users in understanding issues with their water heater and provides troubleshooting tools to help solve the problem. The ICON system also includes Pilot-On-indication.
Bradford White Water Heater Reviews From The Pros
Subcontractors in the water heater and boiler market give Bradford White very good ratings.
There was a Subcontractor Satisfaction Study of HVAC/Water Heater/Boiler contractors done in 2006. It was conducted by McGraw-Hill Construction and the well known J.D. Power and Associates.
Bradford White was found to be one of the most highly rated companies in comparison to other boiler and water heater manufacturers.
The study looked at subcontractors' satisfaction levels when using various brands, and the best manufacturer was deemed to be Bradford White.
Categories such as sales, product, price, repair and warranty service, ordering, delivery and marketing support were included. Bradford and White excelled against the competition, especially in product quality, as well as repairs and warranty.
Day & Night Support
Bradford White prides themselves in their outstanding customer service and customers revere them for being a friendly and helpful brand. As they understand that problems with their water heater may be experienced at any time during the night or day, they are therefore committed to ensure they are always available to assist with any problems.
Their telephone support team is based in the U.S. and consists of Warranty Support and Technical Service. The telephonic support service is available 24/7, and is provided by dedicated experts employed by Bradford White. These employees are professional and have been trained extensively to help customers diagnose problems and provide fast solutions.
Disadvantages / Complaints
The problems listed in this section have been taken from customer reviews and, as such, are not necessarily always totally accurate.
A major issue various customers raise is that the product's warranty is invalidated if it is installed by professionals that Bradford White has not specifically licensed. These customers find these engineers to be very expensive, but believe they have to use them to get the warranty.
Looking at Bradford White's terms and conditions however, it only specifies that certified plumbing and electrical contractors must be used for installation. As they are responsible for compliance to applicable regulations, codes and bylaws. It does not necessarily say licensed specifically by Bradford White.
A water heater's warranty only being valid when installed by a licensed professional is actually common practice among many water heater brands.
Some customers state that as the heater's anode rod is manufactured from magnesium, it produces a fair amount of hydrogen if used in areas with hard water. This results in a strange smell, and even the water is left with a strange taste.
This is quite possible, and it could happen with any brand of hot water heater. Water heaters with aluminum anodes don't have this problem, but I can't recommend them. That's because of the potential of having aluminum in your water, which is a real health danger.
The best solution is replacing the anode rod with a Powdered Titanium Anode Rod.
Also, keep in mind that bacteria could also be causing the rotten egg smell. If the smell is in your cold water and not just the hot water, then its caused by bacteria.
Various customers also complain that some of the tanks have a tendency to corrode comparatively quickly in areas with hard water. After 6 to 7 years, that corrosion is what causes water heater leaks.
Hard water will potentially cause problems with any brand of water heater. In this case, it is worthwhile investing in a water softening system. Or water conditioning products, as it will help protect your investment in a water heater.
Bradford White Water Heater Warranty
Bradford White has a 5 to 6 year limited warranty on its full product range, which covers its components and the glass-lined tank. They guarantee that the integral components are free of any faults due to workmanship and faulty materials. Any malfunction or leakage caused by substandard workmanship or faulty materials is covered by the warranty.
The company specifies that their water heaters should only be installed and serviced by licensed and qualified professionals. If this is not done, the warranty is void.
For all warranty claims regarding water heaters and parts, they work directly with distributors and contractors (not you). Claims can therefore only be submitted through the service professional that will be replacing or repairing your water heater.
The professional will diagnose and repair the problem with parts approved by Bradford White. The pro will process the warranty claim through their local Bradford White distributor.
The warranty will automatically be extended from the first owner to other, subsequent owners. That is, providing the appliance has not been moved from its original installation location.
Bradford White also offers what they call the BUILT BEST extended limited warranty upgrade. Thus, allowing you to extend the original warranty period on component parts and glass-lined tanks. The warranty extension period is between 2 and 4 additional years.
Their official website has a "warranty check" box at the top of the page. That's where the serial number can be entered to check if an appliance qualifies for the extended warranty. If your appliance qualifies, your professional installer can be contacted with the model and serial number to extend the warranty should you want to.
Frequently Asked Questions
In this article, we have tried to give you all the relevant facts that will help you decide whether you want to purchase a water heater from the Bradford White Corporation. In this section, we have rounded up some of the frequently asked questions that are generally asked.
Where are Bradford White Water Heaters Manufactured?
Bradford White has a massive manufacturing facility that covers up to 1,000,000 square feet at Middleville, Michigan. It was built in 2016. So, the setup is quite modernized. More than 1,000 employees are dedicated to constructing the best water heaters possible.
How Can I Determine My Bradford White Water Heater's Age?
The serial number on your water heater can be used to determine its age by looking at the first two letters. The serial number format is YM234567, with the first letter indicating the year of manufacture.
Each letter in the alphabet recycles after every 20 years starting from 1964.
'A' can therefore indicate 1964, 1984, or for newer water heaters, 'A' indicates 2004. 'B' shows that the heater was manufactured in 1965 and so on
The second letter indicates the month of manufacture, with 'A' indicating January and 'M' meaning December.
Where Can I find a Bradford White Water Heater's Serial Number?
Every Bradford White hot water heater's serial number can be found on the rating plate. Which is an adhesive sticker stuck near the warning labels.
So, first look for the warning labels, to easily find the serial number. Then you'll be able to read off the model and serial number. Which is written directly under the address of the Bradford White facility.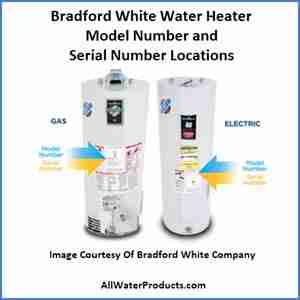 Do Bradford White Water Heaters Use Anode Rods?
Bradford White water heaters use high-quality magnesium anode rods which are installed at the hot water outlet of the tank. These are however not easily accessible and to reach it, the hot water outlet must be removed.
Summary of Features that make a Bradford White Hot Water Heater Unique
ICON System – exclusive gas control technology providing many time and energy saving benefits.
Defender Safety System – flame arrestor system using patented ScreenLok Technology.
Hydrojet – cold-water inlet tube designed to mix incoming water with stored water more thoroughly, thereby reducing costly sediment buildup.
Vitraglas – an exclusive enamel lining to protect the tank from the corrosive effects of hot water.
Brass Valve Drain – allows installers to drain the tank faster, resulting in a service time reduction.
Summary
The vast majority of Bradford White water heater reviews from customers and plumbers has been excellent.
Bradford White is a reputable brand with a history of excellent customer care service. Bradford White products include powerful control and safety features, and last a long time. Their reliability and durability are increased by the protective components integrated into each unit.
Their range of water heaters is huge and diverse. However, in this article I will only mention the most popular gas water heaters.
You should determine what your hot water requirements are before selecting the model that is most suitable for you.
However, If you experience any after-sales issues, their professional support staff is available 24/7. They will help you solve any problems as quickly as possible.
These water heaters have all the features needed to make your experience as pleasant as possible, without indulging in fancy bells and whistles. While still being built to stand the test of time. The Bradford White Water Heater Warranty is one the best in the industry.
Gas Bradford White Water Heater Models
Gas powered Bradford White water heaters can be divided into 2 groups – those with atmospheric vents and those with power vents.
With atmospheric vent models, the warm exhaust fumes rise up through a chimney or other vent through convection.
This group consists of these models:
The 'N' suffix indicates that the model uses Natural Gas as a power source, while Propane (LP) models will be indicated by using the suffix 'X'. Propane models feature a Titanium Stainless Steel propane burner.
The digit(s) before the suffix in the model number indicates the warranty period.
The models listed above have a 6 year warranty, while for example the model RG250T10N comes with a 10 year warranty.
Atmospheric Vented, Energy & Money Saver, with the exclusive Bradford White Defender Safety System – Click Here Now
The Bradford White 50 gallon gas water heater comes in two models – the RG250S6N and the RG250T6N.
The RG250T6N is a Bradford White 50 gallon water heater rated at 40,000 BTU, while the RG250S6N natural gas Bradford White water heater is rated at 50,000 BTU.
The Bradford White 40 gallon water heater is also rated at 40,000 BTU.
The next group consists of two models, both of which use power vents:
RG2PV50T6N    50 gallon 40,000 BTU power vented
RG2PV40T6N    40 gallon 40,000 BTU power vented
The 6N in the model number works the same as described for the atmospheric vent models and indicates the warranty period and the type of gas used to power the heater.