Thinking of opting for a new Bosch electric tankless water heater? There's no question that it's the way to go moving forward.
But there are some things you need to know before switching to a tankless unit if you've only used a traditional hot water tank before.
In this brief review, we will cover everything you need to know about today's most popular models of the Bosch electric tankless water heater – and why you should consider at least one of these versions for your home.
All in all, we'll look at 7 different options. Check it out before you make any move and you'll be a more informed consumer.
Whole House Bosch Electric Tankless Water Heater: Tronic 6000 C
Let's first look at the Bosch Tronic 6000 C models – the WH17 and WH27 models in particular. Both are similar in style and functionality with the major difference relating to kilowatt capacity.
The WH17 has an output of 17.3 kW, while the WH27 delivers 26.9 kW. The WH17 offers an activation flow rate of 0.6 gallons per minute and the WH27 – 0.8 GPM. Both are tankless water heaters designed for whole house applications – to produce hot water on demand – wherever you need it.
Small Yet Efficient
The purpose of these tankless water heaters is to eliminate the time it would normally take for hot water to travel from the hot water tank to the tap. And both models free-up considerable floor space that would otherwise be occupied by a large storage tank. That may or may not be a factor for you. But it sure makes a difference in a smaller size home.
These water heaters are excellent for small homes because they don't take up any floor space since there is no large water tank involved. And these designs are compact and lightweight enough that they can be installed on a wall so you can put them in out-of-the-way places and not give up any precious square footage.
Bosch electric tankless water heater systems operate at 97% efficiency with minimal loss of water temperature while in standby mode.
Both the WH17 and WH27 are relatively easy to install and can be used for any commercial or residential application.
They're a solid option for providing plenty of hot water to bathroom sinks, showers and kitchen sinks at home. But they can also be used in office complexes, hair salons, retail plazas, church buildings and so on.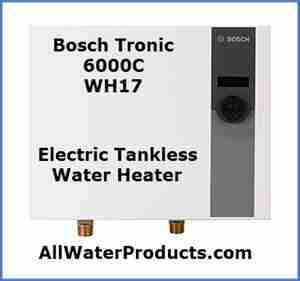 Get This Now – Click Here
Clever Design
Bosch designed these units with a built-in sensor flow and Polymer encased elements. Both are contributing factors in helping control and maintain a constant output water temperature.
There's also an external temperature control knob provided on both models, which allows you to customize to your temperature preference.
Another advantage of an electric tankless water heater by Bosch is that this particular brand tends to last longer than average. According to the manufacturer, the Tronic 5000 C WH17 and WH27 units tend to last for 20+ years – on average.
But the average hot water tank needs to be replaced anywhere from six to 12 years after its installation. This means better value and less hassle for buyers because, let's face it, replacing a hot water system probably isn't on anyone's "Favorite Things to Do" list.
Use 3 Taps Simultaneously
A common problem with various hot water systems is how quickly they tap out (no pun intended) when it comes to multiple usage at the same time.
What these models are excellent for, is providing hot water to as many as three different faucets at a time – without a loss of flow or water pressure. So you never have to worry about running out of hot water during peak use times.
The electronic flow sensor enables you to control the heat. It works in conjunction with the heating element to produce the output temperature you desire.
Also, what is now built into the design is what Bosch calls "scale prevention technology" to minimize scale buildup and allow for hassle-free operations over longer period of time.
Save Energy and Money
The old traditional style of water heater tends to lose about 20% of their heat through the sidewalls of the tank and up the flue of the chimney. That's due to the way those units continually cycle on and off, creating a momentary electrical surge. Which uses excessive power just to keep stored water hot enough, so it's ready when you are. But the problem is that it really is an inefficient use of resources.
Bosch Tronic 6000 C whole house tankless water heaters are capable of heating water almost instantaneously. They're ideal for smaller dwellings where an old-style hot water tank would simply take up too much space. Also, they're perfect for apartments, strip plazas and smaller office locations too.
Professional Installation Recommended
It is important to note that these units need to be installed by a professional. This is not a job for the do-it-yourselfer. These models are direct electrical connections at 240 volts and that's something a typical homeowner shouldn't mess with on their own.
The Tronic WH17 and WH27 both require a minimum of 150 amp service to your house, plus two double-pole, 40 amp breakers and 8 gauge wire. Water lines need to be made of copper or stainless steel that's rated for the job. Plastic pipe is simply not suitable due to the extreme temperature of the water.
For a lot of folks in many different areas of the country, who simply want a good flow of hot water at 2 gallons per minute – either unit would make an excellent choice. If you cannot decide between the two, we recommend going with the larger capacity Tronic 6000 C WH27.
Never Run Out Of Hot Water Again
The biggest advantage of these tankless water heaters is that when they're installed properly, you really never run out of hot water. This means that for larger families you could run one shower after another, and chances are nobody is going to complain that the water suddenly got cold.
As long as there's water flowing through the system at somewhere above the minimum flow rate, you're going to have hot water flowing at the tap when you want it.
When water stops flowing, or dips below the required minimum flow – the unit stops heating. It's as simple as that. It's the ready (and steady) flow of water from your source that's the key to these devices working perfectly.
If you have good water flowing out of the  tap before – you're going to have good water flow after installing the Bosch electric tankless water heater system.
Since these units heat the water directly as it flows through the system, the outflow temperature of the water is dependent on both the flow rate and the inlet water temperature. Those are two key factors that can dramatically affect your results. Check out the map to discover the temperature of groundwater in your area.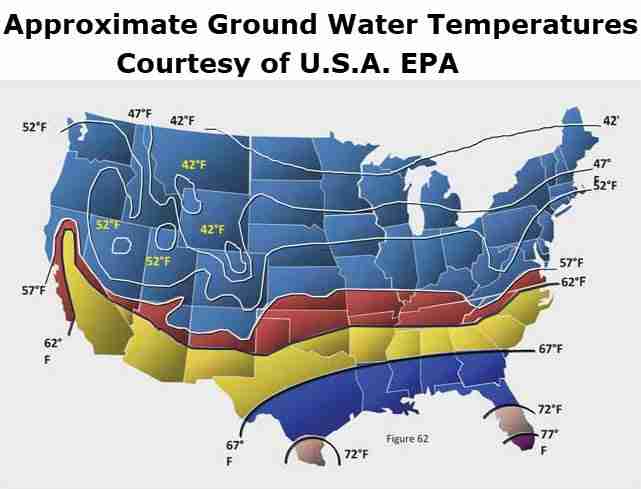 Consistent Hot Water For Whatever You Want
Buyers claim that it works quite well for a variety of applications including washing clothes, dishes, scrubbing hands and showering.
You may or may not see a reduction in your electric bill. That depends on your previous water heater. If you're replacing another tankless water heater, you might not notice any savings. But if this new tankless system is replacing an aging hot water tank, it's hard to imagine a scenario where you wouldn't save at least some money every month on utilities.
Where those savings can be found is in the difference between the amount of power required to maintain the temperature of the water in the tank while it's not being used, and the cost of operating the WH17 or WH27 tankless electric water heating system by Bosch.
Point-Of-Use Models By Bosch (3000 Series)
We've also selected the top 5 point-of-use water heaters by Bosch. Making the cut are the US3, US6, US7, US9, and US12 models. Each of these small tankless water heaters is compact and lightweight.
All can be mounted either vertically or horizontally – with the exception of the US 12 model, which requires an upright installation.
These five Bosch electric water heaters are excellent point-of -use hot water systems that can work just about anywhere. We'll briefly discuss all 5 in general, and then point out the key difference between the models, so that you can make a wise choice for your particular application.
Once again, it's about intended use and the capacity of the device to adequately supply hot water to meet your needs. At home, you'll want to make sure your entire family has access to hot water on demand. And in a commercial setting, it could be staff, customers, or visitors whom you are serving by adding one of these point-of-use hot water systems
Fast Hot Water Where You Need It
Smaller units, like the five we've selected, can really only handle one outlet or application at a time. There are capacity limitations to each model (more about this in a moment) and that's why you should choose the one that is most likely to give you the hot water flow you seek.
You won't have to wait for hot water. It only takes a second or two. But a huge volume of water – like filling a large bathtub – may be too much to fill to an adequate temperature using one of the smaller systems. That can be a little inconvenient, especially after a purchase.
But there is a simple (though admittedly not ideal) fix. And the fix is to manually reduce the water flowing through the valve. This will slow the flow of water over the heating element, which allows it to get hot enough for a bath. Of course, it will take a little while longer to fill the tub. But if you can live with that, this fix will get the job done and you'll spend less money too.
Any of these models would make an excellent choice as a garage sink water heater. It's perfect for cleaning your hands after a day in the garden or working on your car's engine – but it's also helpful when you need to clean various parts.
A Perfect Solution For Hot Water At the Tap
An important point to remember is that you need to maintain a certain level of water flow in order for the system to kick in and provide the hot water you're after. In some applications, you may need to significantly reduce the flow of water at the tap in order to get the temperature you want.
If the water flow is greater than the heater's capacity to warm it, adjusting the flow down can boost the temperature of the water that pours from the faucet. Several previous buyers have achieved the results they wanted by making a slight adjustment to the water flow.
For a simple hand-washing sink, it's usually not a big deal for most people. Who needs the tap turned on full blast anyway? So opting for the smallest, lowest cost point-of-use water heater might make sense.
But if you prefer a more abundant flow, opt for a larger model – like the US9 or US12 from Bosch.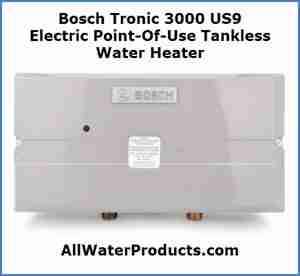 In northern Minnesota, this will provide one gallon per minute (GPM). On the Gulf Coast and northern Florida it will provide 1.9 gallons per minute. Click Here
Install A Bosch Electric Tankless Water Heater Anywhere
These devices are small and lightweight. Plus, they can be installed just about anywhere, so you don't have to worry about finding space to house a huge water tank. And you don't have to worry about wasting electricity either, since these units only use energy when hot water is being used.
When it comes to replacing a water heater, the Bosch electric tankless is a smart way to go. You'll save space and have the water you need, where you need it. Plus, you won't have to worry about your aging hot water tank corroding and eventually leaking and making a huge mess.
Reliable Hot Water
Most buyers are happy with their Bosch tankless water heaters when those systems are properly installed. Their average ranking online is currently 3.5 out of 5 stars, which isn't bad. But we're convinced that if you took away the units that were DOA – whether from shipping damage or poor quality control – that ranking would be much higher.
The reason is that Bosch has put their more that 100 years of engineering expertise to good use in the design of their products. At least one previous buyer reports having purchased numerous Bosch tankless water heaters over the past 10+ years and all continue to work like new.
A Couple Of Accessories We Recommend
Consider also opting for the tankless valve kit and the pre-filter device. These are secondary purchases – but well worth it – in our opinion.
The tankless valve kit enables you to flush the system out without removing the hoses. And the pre-filter can help keep any scale build up to a bare minimum.
What these useful accessories do is they help you get more mileage and use value from your Bosch electric tankless water heater.
You should get almost instant hot water right at the tap. When the system is optimized, it should produce a steady steam of hot water that seems endless.
Is It Easy To Install A Bosch Electric Tankless Water Heater?
These compact tankless hot water systems by Bosch are relatively easy to install. Due to their small size, you can fit them practically anywhere. But it can require making slight adjustments getting used to how these systems work.
That's because these water heaters require substantial flow of water in order to activate the heater. Anything below minimum won't activate the heating element. So you need to alter the water flow to get it just right.
They're designed to use electricity to heat the water, rather than gas or propane. Each unit serves a single tap best, though some people use one water heater for 2 separate taps.
Each of these top five models is backed by a limited five year warranty on the heating element, with a one year warranty on the other components.
Similar – But Different
The main difference in these units lies in their capacity to provide hot water. One good way to compare the various models head to head is take note of the gallons per minute (GPM) output at a temperature rise of 45°F. This means the water needs to increase in temperature by 45°F from the water flowing into the tankless system before flowing out of the tap.
In the case of the Tronic 3000 US3 – output is 0.5 gallons per minute. For the US7, output increases to 1.1 GPM. With the US9 water heater, output soars to 1.4 gallons per minute. And US12 provides and impressive 1.8 GPM.
Remember, all rates of flow assume a temperature rise of 45° F and the colder the source water, the greater the demand on the system to heat it and consequently, the lower the flow capacity. But these numbers are accurate and give you a good idea as to which model might best serve your needs.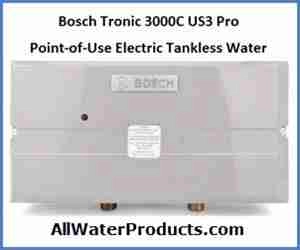 This is the smallest model that is only usable for a hand sink or other low flow use. Click Here
Comparison Table: Bosch Tankless Water Heaters: Tronic 3000 C Series
| | | | | | | | | |
| --- | --- | --- | --- | --- | --- | --- | --- | --- |
| Bosch Model # | Temperature Rise Degrees F >>> | 95 | 90 | 75 | 65 | 55 | 45 | 35 |
| US12 | Gallons Per Minute >>> | N/A | 0.9 | 1.1 | 1.3 | 1.5 | 1.8 | 2.3 |
| US9 | Gallons Per Minute >>> | N/A | N/A | 0.9 | 1.0 | 1.2 | 1.4 | 1.9 |
| US9-2R | Gallons Per Minute >>> | N/A | N/A | N/A | 1.0 | 1.2 | 1.4 | N/A |
| US7-2R | Gallons Per Minute >>> | N/A | N/A | 0.7 | 0.8 | 0.9 | 1.1 | N/A |
| US6 | Gallons Per Minute >>> | N/A | N/A | 0.5 | 0.6 | 0.7 | 0.9 | 1.2 |
| US4-2R | Gallons Per Minute >>> | N/A | N/A | N/A | 0.5 | 0.6 | 0.7 | N/A |
| US3 | Gallons Per Minute >>> | N/A | N/A | N/A | N/A | N/A | 0.5 | 0.7 |
| US3-2R | Gallons Per Minute >>> | N/A | N/A | N/A | 0.4 | 0.4 | 0.5 | N/A |
Groundwater temperature in northern Minnesota is 40 degrees. Hot water is considered to be 105 degrees or more. Therefore, 105 degrees minus 40 degrees equals a 65 degree temperature rise.

Groundwater temperature in Atlanta Georgia is 67 degrees. Therefore, 105 degrees minus 67 degrees equals a 38 degree temperature rise.
Endless Hot Water In Any Application
With these compact electric water heaters from Bosch, you can count on an endless supply of hot running water to any bathroom, kitchen, or shop hand-washing sink. They make a perfect addition to any home. In fact, you may choose to install several of these Tronic 3000 systems.
They're also ideal for warehouses, offices, service stations, stores, kitchens, concession stands – and other outlets – wherever a sink is required.
They're compact and lightweight with an understated design. It can be installed right under the sink, so you don't have to worry about an unsightly water heater in your space – or that of your visitors, clients, parishioners, etc.
No, these systems are not made for high-volumes of water. But they can – and do – provide a consistent flow that's more than adequate for most applications. As long as the water flow is low enough for the water to heat up – you're golden.
But if you have cold water flowing too fast, the unit may not be able to process that water quickly enough to get it to the desired temperature. Simply adjust the flow and let your Bosch tankless electric water heater do its thing.
Our Verdict On The Bosch Electric Tankless Water Heater
There are three big benefits of going with a tankless Bosch electric water heater.
These benefits include – the space you'll save, the savings you'll gain by lower utility bills, and the energy you'll conserve, which is good for the environment.
There are multiple factors you need to take into account when choosing the correct Bosch tankless water heater for your purposes. That includes the number of people in your dwelling, the type of showers desired, the number of faucets you want serviced and your geographic region.
The latter factor is important due to the groundwater temperature. The warmer it is where you are, the lower the required water temperature increase.
Check out the map below to determine the groundwater temperature in your area. That's a good place to start because that's the raw material that you'll be feeding into your water heater.
If in doubt, buy the next size larger so that you always have enough hot water flowing.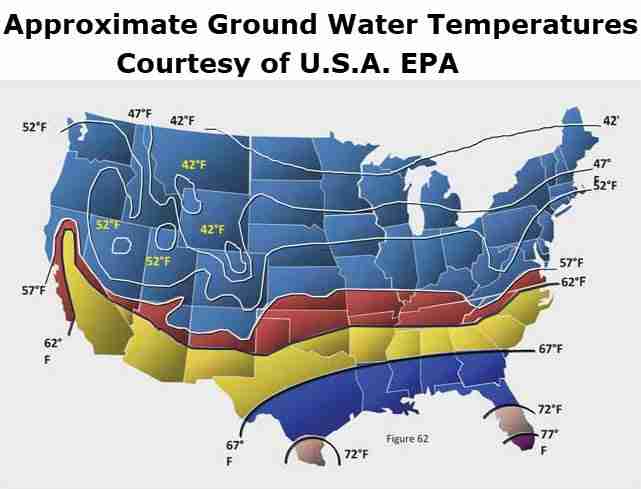 To see all of the electric and gas Bosch tankless water heaters Click Here
If you need a larger volume of water, check out these natural gas and liquid propane heaters from Bosch.
Or read my review of the Rinnai Propane Tankless Water Heater.